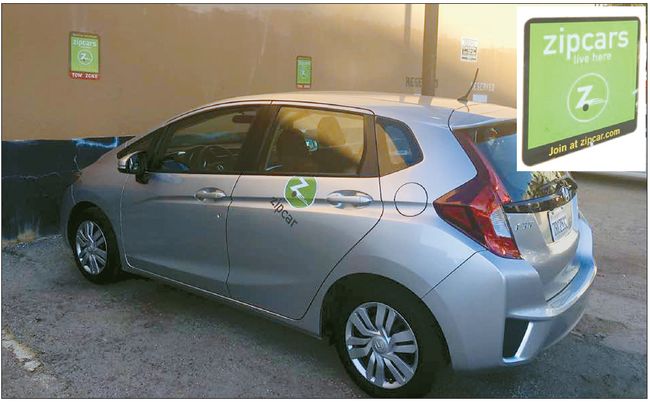 Zipcar, an hourly car-sharing service, arrives in Los Angeles Koreatown.
Zipcar is a membership-based rental car service. A member of Zipcar can reserve a vehicle for as little as one hour, or as much as 7 days at a time, but the members in Boston, Denver and LA can reserve for as little as 30 minutes. The service was first introduced to college students at Stanford and UC Berkeley in Northern California, then it spreaded to other areas.
According to the Zipcar's website, there are pick-up and drop-off locations near Wilshire and Lincoln, Olympic and Ocean Avenue, and at the Colorado Center office park. Rental price differs but a Nissan Versa Hatchback is available at $9.50 an hour or $78 a day.
Zipcar is also hoping to entice drivers with new features exclusive to Southern California. Renters can change their destinations or extend their reservations in the middle of their trip. But the biggest change is that Zipcar can now be rented for one-way trips. Whereas drivers had to return cars to the original pick-up locations, they can now drop them off at any of the 175 LA area locations.
To use Zipcar, simply make a reservation via app or website, then go the assigned parking lot. To access the car, wave a "Zipcard" in front of a reader inside the windshield. The key is inside the car and to return a car, just park at the reserved drop-off location.
Rental fee includes gasoline and insurance. If you need to fill the tank, use the fuel card inside the car when it gets to 1/4 full. The service is available even during late night and weekends. Allowed maximum distance of driving is 180 miles per day. Also there are $25 application fee and $35 annual membership fee. College students have discounts on the annual fee.
Few days ago, there were 26 cars available from the 7 Koreatown locations, but the updated search shows only 8 cars available, which proves its high demands. The locations are Wilshire/Western, St Andrew/Wilshire, Davinch Apartment, Echo Apartment, Wilshire/Kingsley, and 8th/Kenmore.
The metro parking lot near Wilshire and Shatto has a Honda Fit. Its rental fare is $9.50 per hour, $78 per day. But the daily fare varies upon the day of the week: weekend price costs $10.50/hour, which is the price with $1 extra added. The daily rent costs $94.
To join Zipcar, applicants must be 21 years or older; 18-20 years old if affiliated with a college or university. Also, applicant must have a valid driver's license and have at least one year of driving history. Every vehicle records its driving time and distance and automatically sends the data to the main system.
"Generally it costs around $100 when you rent a car and you need to pay for insurance and gas. Zipcar is a great option if you want to rent a car for just few hours. Not only young people in LA county, but a number of people in K-town are also looking for Zipcar services", said an associate.
"I live in LA Koreatown and I recently got rid of my car," said a recent user of Zipcar. "I walk to work and use Uber for short distance trips. For long distances I use Zipcar. There are many locations available and the price is reasonable, so I use the service frequently."
Zipcar was first introduced in LA in the middle of 2015. There are 175 service locations in West Hollywood, Hollywood, UCLA, USC, Santa Monica and LAX. The company has a partnership with LA Metro and is constructing Zipcar parking lots round Metro stations. According to Zipcar, there are 20,000 members in LA county.
Original article by Sung Yeon Lee
Translated by Narae Lee