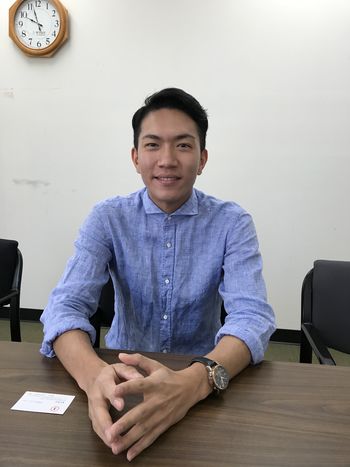 "I want to be a filmmaker who is eternally remembered by making films like Old Boy or Shiri to spread the soul of Koreans across the rest of the world."
Chang-hyun Park, a 28-year-old budding filmmaker who has been garnering Hollywood's attention, is looking to jump into the commercial film industry.
Park was inspired to become a filmmaker after watching Chan-wook Park's Old Boy in 2003. He was obviously not the only person to have such a dream after seeing the legendary film. There were many besides him. He was simply one of them.
"There were probably at least hundreds who had the same dream after watching Old Boy," Park said. "The effect a film could have on our culture is beyond our imaginations."
For a young high school student, taking on the challenge to become a filmmaker was a big adventure. Park gave up on majoring in business management and soon began studying camerawork and lighting as a film studies major at Sangmyung University. After finishing South Korea's compulsory military service, he came to the United States. He made the move without finishing college in South Korea. Hence, Park had to start his college education all over again. That gave him an opportunity to build a stronger foundation.
Park showed a glimpse of his potential with his first short film Bridging Color after graduating. He was in charge of everything, including the storyboard and even directing.
Bridging Color is a 24-minute short film centering on a painter who overcomes color blindness. The reception for the film was more than positive as it was nominated at the Rochester Film Festival.
"Beethoven composed the best music without being able to hear," Park said. "The main character of my film also paints the best drawing without being able to see colors. I wanted to start a conversation about perceptions and biases. Are the colors that we see absolute? Is there such a thing as correct and incorrect colors for different situations?"
Park hopes to one day make a hit film in Hollywood.
"Hollywood is the core of the film industry," Park said. "I want to be someone who can express and represent what it is like to become a Korean filmmaker. I also know that many Koreans live in the U.S. I think now is the time for the U.S. to finally have a Korean filmmaker who've come through an American school to work in Hollywood."
Such an ambition is precisely why Park's first commercial film is likely to come with high expectations. He is currently brainstorming ideas to make a film that centers on both Korea and Koreatown in the U.S. The story will be about the life of a married Korean couple. In addition, Park is also in the process of brainstorming a blockbuster film about a taxi driver's journey through the border between the U.S. and Mexico.
"First and foremost, my dream is to make a film like Shiri in Hollywood," Park said. "Both Old Boy and Shiri are films that have left a mark on history."
▶Profile: Born in 1989. Attended Sangmyung University, graduated from New York Film Academy. Short film "Are You Listening" (2014), "The Scrip" (2015), "Looking Back" (2016), "Bridging Color" (2017). Directed music video "Dynamite-Aliens."
By Byung Chang