For those who want to get creative even when eating, mashup food offers an eye-opening experience. Among hundreds and thousands of food combinations, you may feel lost which to choose to satisfy your taste buds. To help you guide through the mashup scene, let us suggest some of the smart food mashups found in Koreatown.
Carbonara Tteokbokki at School Food Blooming Roll
If you love the chewiness of tteokbokki but can't get accustomed to its spiciness, you may have wondered if there was a non-spicy option for tteokbokki. Well, there is! At School Food located on the top floor of Madang Plaza, you can find a hybrid of cream pasta and tteokbokki – Carbonara Tteokbokki.
School Food offers three options for this menu: Original Carbonara, Hot Carbonara, and Soy Carbonara. Each are made with creamy carbonara sauce to moderate the spiciness and give more flavor to tteokbokki. Whichever you choose among these three, you will instantly fall in love with the creamy flavor of this mashup dish.
Location: 621 S Western Ave, Los Angeles, CA 90005
Cotton Candy Ice Cream at CottonHi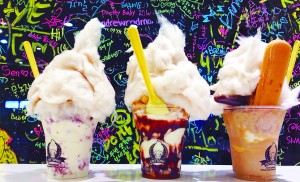 Ice cream is always a perfect topping to add more sweetness to your dessert. Whether it's on top of a piece of warm brownie, freshly baked apple pie, or crispy waffle, a scoop of ice cream never fails to meet our expectation for delicate sweetness. At CottonHi, ice cream does not serve as a topping — it is topped with another sweet thing: cotton candy.
The mash-up of ice cream and cotton candy goes beyond one's expectation, thanks to the variety of cotton candy flavors. Flavors for the cotton candy are not limited to dull sweetness, but offered with multiple variations like strawberry, lemonade, mint, chocolate, salted caramel, and coffee. Choose your ice cream and top it with your favorite cotton candy flavor to taste this smart dessert mashup!
Location: 3825 W 6th St, Los Angeles, CA 90020
Waffle Pizza at Seoul Waffle Pizza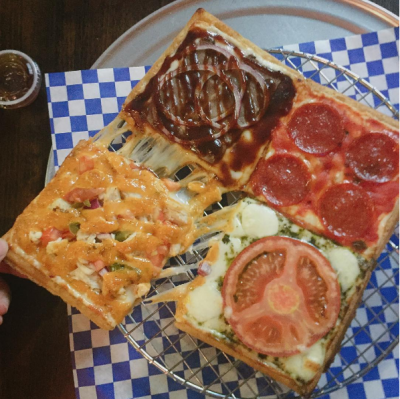 If you are following the recent Instagram trends, you would probably have noticed these waffle pizzas at least once. Home of the world's first Korean Pizza Waffles, Seoul Waffle Pizza is at the center of this new trend. If you're a breakfast person like James Kim, the owner of Seoul Waffle Pizza, you will fall in love with this sweet and savory mash-up at first bite.
When we visited Seoul Waffle Pizza late at night to taste the pizza-waffle hybrid, the cool neon sign reading "Seoul" was telling us that the place was open even when all the other stores at this small shopping center on the corner of South Oxford Avenue and West 8th Street were closed. Proving its popularity, Seoul Waffle Pizza was crowded with people.
Their menu consists of both Korean and American inspired toppings. Both classic pizza toppings like pepperoni or Italian sausage and Korean-inspired toppings like bulgogi or kimchi can be added to flaky waffle squares. If you can't make your mind up on one, order Four Seasons – a four-way combo of pesto with tomato, barbequed steak, pepperoni, and chicken breast. You can also add a cup of maple syrup to add the signature sweetness of waffles.
Location: 3525 W 8th St #208, Los Angeles, CA 90005
By Heewon Kim