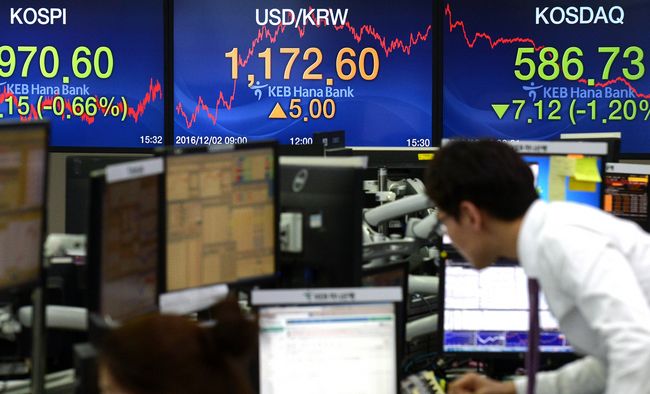 The South Korean won is expected to fall in value, as $1 USD is expected to be equal to 1,300 won by the end of 2017, according to the latest report from Morgan Stanley.
As of Dec. 5, 1,300 South Korean won equals to $1.11 in the United States.
A continued decline of the won's value is expected to serve as a further blow to many international students from South Korea, many of whom receive funds from their home country to cover tuition.
Businesses that export goods to South Korea are also likely to hit a roadblock as well if the Morgan Stanley report's prediction comes to fruition.
The expected loss for the South Korean won is even selected by the report as one of the 10 main themes of global currency in 2017. Morgan Stanley, Citibank and State Street all predicted in their respective reports that the Japanese yen will suffer an even bigger decline, as $1 USD may equal to approximately 130 yen, which costs $1.14 as of Dec. 5.
Citibank's report included that the Brazilian real saw a growth of 14 percent in 2016, which was the loftiest ascension than any others, while the Mexican peso suffered the steepest drop at 19 percent.
The report also estimated that the gap between growing and falling currencies will continue to become wider. While countries with natural resources, such as Brazil and Russia, will strengthen, the likes of South Korea and China, whose primary market is based on manufacturing, are likely to struggle.
In fact, the Mexican peso has consistently been on the decline since Donald Trump's victory last month to become the U.S. president-elect, as he hinted at potential renegotiation of the North American Free Trade Agreement.
Case in point, Morgan Stanley also concluded that the South Korean won will end the first quarter of 2017 at 1,220 won per U.S. dollar, second quarter at 1,250 won, third quarter at 1,275 won and finally, fourth quarter at 1,300 won.
Morgan Stanley added that South Korea's slowing economic growth, national debt, lowering productivity and the decline of the Japanese yen and the Chinese yuan will have a significant impact on the won.
Likewise, State Street estimated that the South Korean won and the Australian dollar are among the currencies to see a drop in value.
Experts predict that although President-elect Trump's plan for the U.S. economy may fail, the accumulated pressure for inflation will contract the American labor market even further, which in turn will increase the national debt to benefit stocks than bonds. In that case, the funds invested in developing nations are likely to return to the U.S.
By Hyun Woo Kim