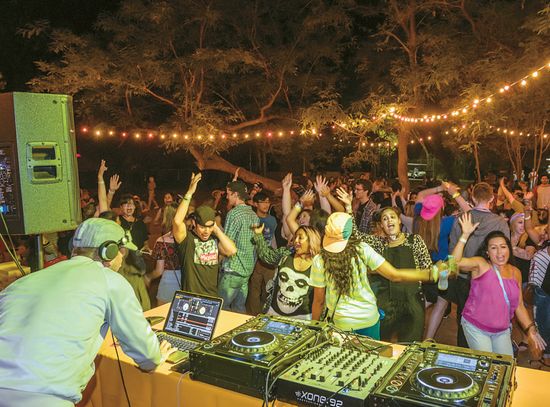 Can you imagine spending some time on a Friday night at the zoo with music and animals? LA Zoo is opening a unique festival called 'Roaring Nights Summer Music Series' where you can enjoy nature, music and art at the same time.
The festival will be opened on September 16, from 7PM to 11AM at the main festival location. This year's festival will particularly be honoring two of Pop legends, David Bowie and Prince, who both passed away with honor this year.
The festival's theme is the 1980's and there will be disco music, dance, fashion, and games that were popular during the time.
The main purpose of this festival is to gather both young old-music lovers and middle-aged people to spend a late summer night together with old pop music. Visitors will be able to enjoy music and relieve stress with friends, surrounded by nature and animals, which is not easy to experience in the city.
The main DJ will be Richard Blade, who was the most famous during the 80s'. Famous 80s' live band BETAMAXX will also be there playing some of the most famous songs during the time.
At the festival, there will be a variety of food trucks prepared, along with full-service bar, vintage video games, and paint party.
The festival only accepts adults over 18, and the price is $25 ($22 for LA Zoo Staffs).
Address: 5333 Zoo Drive, Los Angeles, Griffith Park
For more information: http://www.lazoo.org/roaringnights
(323) 644-6001
Original article available at http://www.koreadaily.com/news/read.asp?page=6&branch=NEWS&source=LA&category=&art_id=4555479
Translated by Audrey Joung