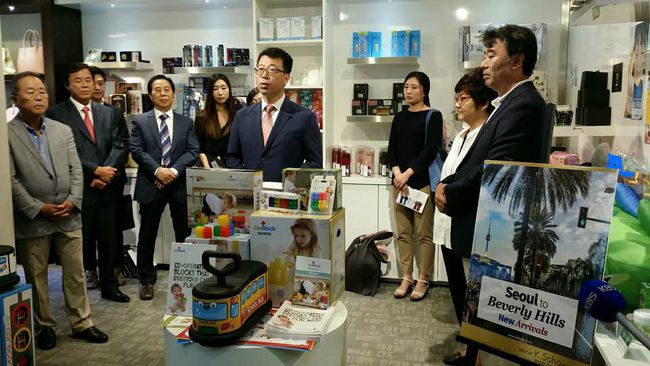 The finest products manufactured by mid to small size Seoul-based businesses were introduced in Beverly Hills.
K-Biz's L.A. office opened a high-end luxury goods store at K Soho in Beverly Hills (421 N. Beverly Dr.) on Monday.
The 40 products from 25 companies have been chosen by K-Biz to be put on display and sale at the Beverly Hills location. Those products include earrings, necklaces, kids' nail stickers, pillows, blankets, portable water bottles, fry pan, switchless speakers, LED mood light and clocks.
K-Biz also held an importing counseling session. The likes of CA Pharm, Plus Line and Bottle & Bottle Korea participated in the session along with 15 to 20 other businesses.
"The products at the store have gone through fierce competition," said K-Biz department director Jong-rak Choi. "This year, the items will not only be sold at the store. They'll also be available via Amazon and K Soho online vendor mall. We expect sales to rise while buyers and sellers could build on a stronger relationship this time around."
By Sungcheol Jin