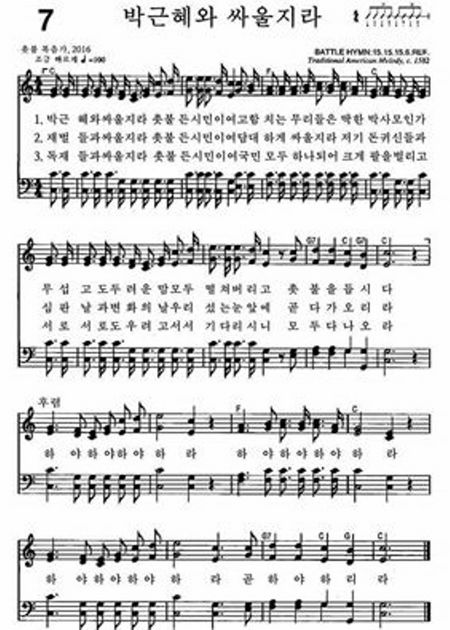 South Koreans protesting against their beleaguered President Park Geun-hye have sparked controversy after some began singing rewritten versions of Protestant Christian hymns in their calls for the country's leader to step down.
The most commonly sang Christian hymn during the protests has been "Up and Fight Against the Devil," which has been renamed to "Up and Fight Against Park Geun-hye."
Some protesters have been calling the hymn a "song for resignation" of the president, as they have changed its original lyrics "glory, glory hallelujah" to "haya, haya, hayahara," which roughly translates to "resign, resign, you must resign" in Korean.
Church of Peace in L.A. has even displayed a video of their members singing the politicized hymn during its Sunday service on Nov. 4.
"I wanted to show that our church is not just a spectator to the situation in our home country," said Church of Peace pastor Ki-dae Kim. "We plan on singing this song in our upcoming service this Sunday."
Another hymn that has been used by the protester is the commonly sang "Joy to the World," which protesters have renamed to "Joy to the Resignation."
The rewritten songs have been spreading fast through social media. Some have expressed their discontent, saying that using religious music to promote a political cause stands at odds with Christian values.
The Korean Association of Church Communication (KOACC) has already issued a public statement. "It is disgusting to reflect a negative situation through a hymn," it read."Although there is freedom of expression, this is an incident in which abnormal actions are being taken to mock a religion based on a political situation," the statement added. "Relating a wrongful situation in politics to a certain religion for no specific reason and criticizing it seem nasty, vulgar and disgusting."
Irvine-based pastor Dave Noh said: "Protesters must be more cautious about changing the words of hymns to criticize a situation that the entire nation feels angry about."
However, some are arguing that changing the words of hymns to protest against the government cannot be equated to mocking a religion.
"It's narrow-minded to say that this is a criticism of Christians," said Ji-soo Yoon, a 32-year-old Christian residing in L.A. "These songs are not targeted towards churches. It is a way of protesting against a corrupt regime. If anything, churches should connect with the rest of the society as a whole and sympathize with the country."
Kim, Church of Peace pastor, agreed with Yoon. "Hymns do not have the same prestige as the bible. Some Christian hymns even originate from German songs. This controversy is meaningless," he said.
By Yeol Jang