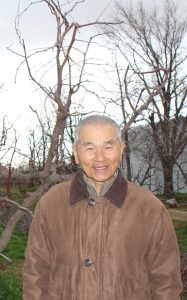 "What money would a retired pastor have if it weren't for my farm? I've been able to make donations for missionary work thanks to my farm."
Pastor Cheon-su Ahn, 81, is running a red date farm in Lutheran Valley. The 60-acre land grows approximately 5,000 red dates, giving Ahn plenty of work even during his twilight years. Nowadays, he is busy chopping off branches to prepare for the new buds.
Ahn's farming business began 23 years ago when a Hispanic couple offered him to grow "jujubes," another word for red dates. Ahn admitted that he needed his wife to look up the word jujube on the dictionary to know what it actually meant. The memory of Ahn starting off by planting 20 trees and harvesting in the fall still remains vivid.
Since then, Ahn has been funding various missionary projects with the revenue he has generated with his farming business. He has made an annual donation of $120,000 for 10 years for missionary work in both China and India over the last 10 years. His donations have assisted livelihoods of 118 pastors in India and provided scholarships to approximately 300 students.
"The purpose of my farming business is so that I could fund missionary work," Ahn said. "We don't have that many things to spend money on for ourselves anyway. Our goal is to guide more people to heaven. We aim to support 400 Indian pastors who are struggling to make ends meet. If one of them can evangelize 30 people per year, that's 2,000 people in a year in total."
Ahn now plans to buy a dairy cattle for every pastor he has been supporting. One dairy cattle is worth about $1,000 in India. That should help the church there to be self-sustainable establishment.
Interestingly enough, Ahn said that he never imagined that he would be spending the later years of his life as a farmer, as his initial plan was to return to South Korea after completing his studies. His fortune took an unexpected turn while he was serving as a pastor in Bakersfield until he was 60.
After becoming a missionary pastor at 60, Ahn voluntarily chose to base himself in the rural areas after his wife advised him to become a reference point of self-sufficient leader. After graduating from Andrews University in Michigan, he chose to dedicate the rest of his life to God.
Ahn has since delegated the operations for 20 acres of his farm to a Hispanic household, leaving the remaining 40 acres to him and his wife. Since two years ago, he has even began expanding the size of his farm. He has hired employees during harvesting seasons, but has never been free from his busy farming schedule.
"I happily consider it an exercise," Ahn said. "It has been graceful to work while listening to God's words through my MP3 player."
By Jae Ho Lee