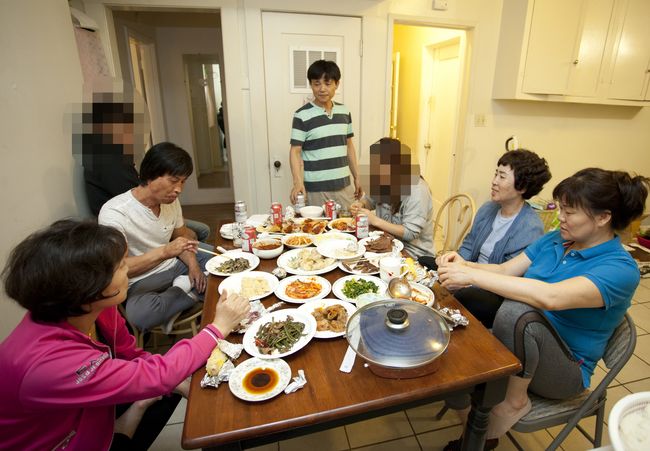 Around 10 North Korean defectors, who currently reside in Los Angeles, gathered together in Koreatown to celebrate Chuseok, Korea's equivalent of Thanksgiving Day.
"In North Korea, the entire family gets together every year for Chuseok," said Chang-ho Kim, 50, who defected North Korea in 1997 and relocated to the U.S. from the United Kingdom in 2007.
"It's one of the most memorable days of the year in North Korea, because it's not common for people there to see their families."
Kim, who lives in L.A. with his mother, wife and children, has been a supporter for the U.S.-based North Korean defectors and an advocate for their independence.
After establishing North Korean defectors' community group USANKD, Kim has been trying to create a family environment for its members, whose backgrounds range from those who have lived in the U.S. for more than 10 years to ones who only recently escaped the communist country.
"We meet at least once every three months over barbeque and drinks," said Chris Hong, 30, who defected to China from North Korea in 2010 before moving permanently to the U.S. five years later. "Life in America is not easy. My source of income is to import North Korean mushrooms here."
It is estimated that there are around 100 North Korean defectors who live in L.A. Many of their professions include small business owners, massage therapists and hotel managers. Their pursuit of attaining financial independence and contributing to the society in the U.S. is the ultimate goal, said Kim.
"I don't want my children to think too much of my North Korean roots," said Kim. "They know what my situation has been like, because they can look up all sorts of information on the Internet. It's important that I show my children that their father lives his life in the right way. It gives me strength when I meet with my fellow North Koreans."
One of the women who attended the Chuseok gathering, who is a 37 year old, has two American-born children, but remains an undocumented immigrant herself. "I moved here after obtaining South Korean nationality, so getting my residence granted in the U.S. is not easy, but it puts me at ease that my children can pursue their dreams here."
Some defectors, who have been able to stabilize their lives in the U.S., are now finding ways to support their families in North Korea.
"There are 100,000 people around the world who've defected North Korea," said one of the defectors, in her 60s, at the gathering. "That means there are 400,000 people in North Korea who are their families. The government there don't punish defectors' families. When I send my family $1,000, that's good for four of them to put food on the table for a year."
The USANKD plans to hold an event in December to celebrate its one-year anniversary. Kim said, "It gives us strength when the Korean-American community supports us. We will keep our organization going strong."
By Hyoung Jae Kim