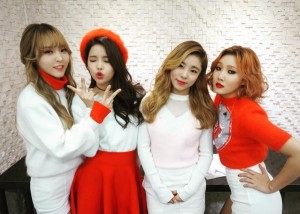 Ladies and gentlemen, the moment we have all been waiting for… MAMAMOO is making a comeback later this month!
RBW Entertainment has been consistently dropping teaser images and videos for MAMAMOO's first full-album 'Melting Time' to be released on February 26th.
We are in a digital age in which most consumers choose to either virtually stream their music or buy singles online. With the rise of the Internet and easy file sharing, album sales have woefully plummeted in the last decade. Thus, MAMAMOO's first FULL ALBUM is a testament to their hard work and success since their debut in 2014.
Fans got an early sneak peak of the upcoming album when RBW Entertainment released one of their new tracks, "I Miss You" on January 29th. "I Miss You" definitely highlights Hwasa, Moon Byul, Solar, and Whee In's vocal talent.
MAMAMOO's previous big hits include "Mr. Ambiguous," "Piano Man," and "Um Oh Ah Yeh" And expectations are high, because MAMAMOO is known for its high quality music, powerful vocals, and unique concept.
Be on the look out! MAMAMOO is coming for the Kpop market – February 26th.
By Hajin Lily Yi