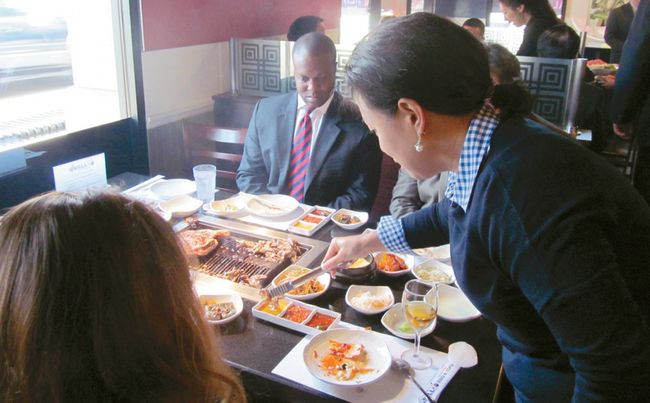 The keyword of Korean retail industry is "The K-wave in business."
People's favorite Korean places – restaurants, markets, retail stores – are no longer limited to Koreatown in Los Angeles, but expend to Buena Park, Fullerton and Irvine.
The hottest business is the food services. Korean barbecue restaurants have been constantly popular but the recent trend shows that it is not limited to Korean BBQ restaurant any more. This phenomenon led the expansion of Korean franchise restaurants in the U.S. Therefore the Koreatown restaurants do not seem like 'Koreatown', but 'Global Town'.
Chinese consumers take an important role in businesses in Koreatown. They are the major customers to Korean restaurants including barbecue, seolleongtang (beef bone stew), samgyetang (chicken soup) and gamjatang (pork back-bone stew).
They visit Korean spas and jjimjilbangs for relaxation and special treatment. Clothing store, optician's, grocery marts are their favorite stores as well.
Retail stores started to hire Chinese-speaking employees and add Chinese menu and signs to attract more Chinese customers.
Korean stores no longer limit their business areas to Koreatown, but they now target other ethnic community areas to expand their business. Korean restaurants are now opening in West LA, Arcadia, Torrance, and Fullerton, leading the popularization of Korean food.
The increase of grocery stores is another key point this year. H Mart opened new stores in Torrance and Lakewood. Torrance store opened in June this year and the area is rising as the battlefield of grocery stores as Hannam Chain and S Mart have been located in the area before H Mart's opening.
Zion Market's aggressive strategy is noteworthy. They originally focused on California but now plan to open stores in Duluth and Montgomery in Georgia. Currently Zion Market has 5 stores in Los Angeles, Buena Park, Cerritos, Irvine and San Diego.
Last July, a grand shopping mall opened in Los Angeles Koreatown. Gaju Marketplace is finally ready to welcome guests after its long construction. The place has Pacific Bank, Aritaum, Verizon, and Yoon's Watch Repair, in addition to a food court to open in March 2017.
On the other hand, Korean stores had some struggles this year because of strict labor laws. Also, the increase of minimum wage rose on the surface and baleful lawsuits against Korean stores remain as constant issues to be resolved.
Original article by Sung Yeon Lee
Translated by Narae Lee