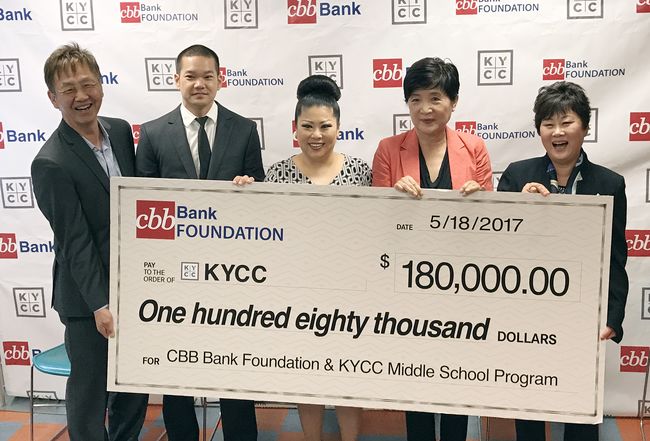 The Koreatown Youth & Community Center (KYCC), backed by CBB Bank Foundation, will expand its after school program for middle school students.
Both KYCC and CBB Bank held a press conference Thursday to announce their after school program for Wilton Middle School with an $180,000-sponsor.
"KYCC has for years been providing an after school program, but we've struggled in recent years after the government funding has stalled," said KYCC director Jeong-ho Song. "With CBB Bank's support, we'll be able to give wider opportunities for learning to more students."
Song added: "The number of scholarship recipients will be increased from the current 30 to 120. We will also open college admission workshop and summer school programs."
Founded in April 2015, CBB Bank Foundation is actively contributing to the society's betterment.
"We have chosen to sponsor KYCC's after school program to provide guidance for Korean-American middle school students as we believe that they are the hope of our community," said CBB Bank president Joanne Kim. "We will always continue to seek ways to improve the Korean-American community."
Meanwhile, CBB Bank Foundation has announced its plans to sponsor an additional $55,000 this year, $60,000 next year and $65,000 in 2019 to KYCC's programs.
By Woosoo Lee