AOA Jimin's solo track "Call You Bae" featuring EXO's Xiumin will bet released on March 3rd. Jimin received a lot of attention after starring on Unpretty Rapster 1 last year. Her rap performance has continually improved and she showcases her skills through a solo release.
This is EXO's oldest member Xiumin's first time featuring as a vocal and his first time collaborating with a female artist.
Check out the MV teaser which was released today!
YG Entertainment's soulful princess Lee Hi will return with a half album Seoulite on March 9th. YG Entertainment released a teaser poster today, featuring Lee Hi with long hair in a feminine blouse with a graceful expression. Her title track is called "Breathe(한숨).
Although she has released "I'm Different" with Lee Soo Hyun and Bobby in 2014, Seoulite is her first comeback since her first album in 2013. Thus, this is a much anticipated return of a soulful Kpop solo artist.
Five member girl group, FIESTAR announced through their official SNS that they will release the second mini album A Delicate Sense on March 9th.
FIESTAR is trying out a new sweet, girly concept, which is different from the sexy image they have garnished from their previous songs. Rapper Yeji in FIESTAR has gained massive popularity for her appearance in Unpretty Rapster 2 last year. Fans are thrilled to see all five members back together soon!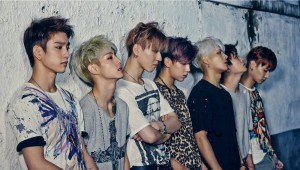 GOT7 is confirmed to returns with a new mini album Flight Log: Departure with the title song "Fly" on March 21st.
JYP Entertainment released the full track list today. GOT7 members have actively participated in writing lyrics, rap making, and composing some of the songs. GOT7 also plans to hold their first solo concert upcoming April.
Lastly, this is not a musical release, but still exciting news to look forward to: TWICE will star in their first own reality TV show titled Twice Private Life on Mnet!
Mnet aired TWICE's survival program SIXTEEN last year, depicting the dramatic, cut-throat competition among JYP Entertainment's trainees to secure a spot to debut as TWICE. The first episode of Twice Private Life will air today, March 1st.
By Hajin Lily Yi