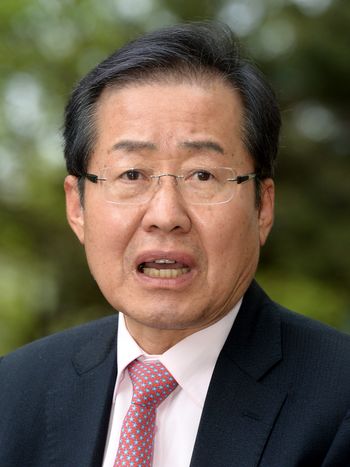 Expansion of dual citizenship to be considered
Setting up a town for returning overseas Koreans
Aims to be the president of security and working class
-How do you want to be remembered by the U.S.-based voters?
▶I felt that my contribution to allow overseas Korean voters to cast their ballots from 2008 was a rewarding one. I was the very person who suggested that limiting the rights of our citizens abroad is a dangerous idea and that they deserved their voting rights.
I've worked as a prosecutor, congressman, floor leader, party representative and Gyeongnam Province governor. I've experienced working in the legislative, judicial and administrative bodies. As a congressman, I managed the government administration by primarily working through the standing committee. My experience will strengthen our country, which is in an urgent need of national security at the moment. I want to be remembered as a president who strengthened the national security of Korea.
-What is your awareness of Koreans residing overseas?
▶ The 7.5 million overseas Koreans are an asset to our country and people. We realize how much they contributed to our country from the U.S. and Japan at times when Korea was still poor. Many of them also worked in the mines and as nurses in Germany to lead our country to economic excellence. They are the people who enabled Korea to be the country that it is today.
I know that Koreans are currently in around 190 countries around the world. They're all working hard for Korea from all avenues of the world. I feel proud every time I go abroad. Their existence is what raised the brand value of our country.
-What are your plans to secure the rights of overseas Koreans?
▶I will continue to support overseas Koreans to enter the mainstream society of their respective countries of residence. I'm going to strengthen our government's support for organizations including the Korean American Association and others to make sure that our children overseas can still learn about the Korean culture as well as our language.
Also, my administration will collaborate with other countries so that we could spread our cultural values around the world to ensure that Koreans around the world can be proud of their country.
-What are your plans on the potential establishment of the Overseas Koreans Center?
▶That has always been under consideration prior to every presidential election in Korea. Last time around, it was even proposed to the congress only for it to be disposed automatically as no one stepped up to push it through.
I wouldn't say that I partly have a different opinion on establishing such an organization, but I will review the possibility of setting up a similar body with positivity.
-What are your plans on allowing dual citizenship?
▶The trend around the world is leaning towards allowing dual citizenships. Korea is partly allowing it at the moment, but I believe that now is the time to consider it more seriously as it could lead to our country securing more skilled individuals who are currently based overseas. However, we would still need a careful consideration and cooperation with how dual citizenship will affect the military service and taxpaying.
-Do you plan on making policies to encourage Koreans to move overseas?
▶To be frank, our country is very small. There's a need for the younger generation to develop their futures outside of our country. As the Gyeongnam governor, I am currently executing a plan to send children of working class families (50 a year) overseas for internships in other countries. When I become the president, I will actively seek more young Koreans to move overseas.
I'm also going to foster the next generation of our leaders by providing them with the experience of working overseas. I can do that my expanding the number of programs for developing our younger generation to approximately 100,000. I'll also expand the World Friends Korea from today's 5,760 volunteers to 40,000 and also KOICA's from 5,100 to 35,000. The overseas internship program will also be expanded to about 5,000 from today's 650 a year.
I'll also expand the support for encouraging young people to find jobs overseas. The K-Move Center, the one-stop service for young Koreans seeking jobs overseas, will also provide its services to 20,000 from today's 18,000.
The available fund to support young overseas Koreans to settle abroad is currently $2,000 for developed countries and $4,000 for those in prioritized countries (Southeast Asia, Central and South America and the Middle East). I will expand the funding to $4,000 for developed countries and $12,000 for prioritized countries.
-What are your plans to support overseas Koreans who are looking to return?
▶I believe that most of the overseas Koreans who are wishing to return are over the age of 65. Some may already have settled lives, while others may not. First and foremost, I'm going to try to secure stable housing for them. I'm going to consider plans to establish an Overseas Koreans Town for them to have proper medical and cultural support.
-Overseas Koreans can visit North Korea rather freely. It seems like the overseas Koreans can help to bridge the gap between the two Koreas. What are your thoughts?
▶It is surely a possibility from the perspective of individuals who wish to interact with North Korea. I understand that many overseas Koreans are actively visiting North Korea. However, from the perspective of the government, North Korea will have to concede their nuclear weapons for there to be an advanced exchange between the two Koreas. They've already tested their nuclear weapons five times, while testing their missiles rather regularly. How is any kind of conversation even feasible when these are the given conditions at the moment?
-What kind of president would you like to be remembered as?
▶I hope that the Korean people can look back at my five years as president and believe that I've made our country into a place that gives hopes and dreams to young people and the working class. I've longed to become a president for the working class for a very long time. Just like my mother, I'd like to be a kind, righteous person who can make the people of our country happy.
By Wonyoung Lee