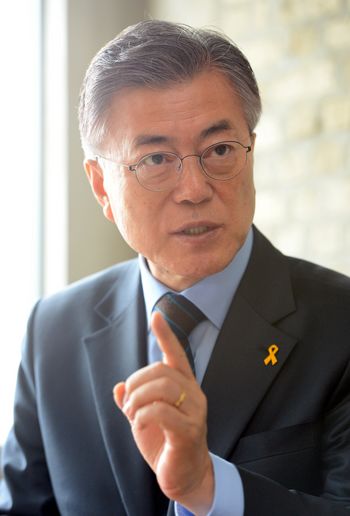 The presidential election in South Korea is set to take place on May 9. With less than 20 days to go, candidates have started their respective campaigns. South Korean citizens based abroad can cast their ballot beginning next week. The Korea Daily has conducted an email interview with each candidate. The interviews will be published in order they were received.
"Understanding overseas Koreans' patriotism
I will do everything to enhance their rights"
-How would you like the U.S.-based voters to remember you?
▶ I want to be remembered as a president who put forth a revolutionary effort to enhance the rights of Koreans living abroad.
Overseas Koreans are the face of our country. Among them, the Korean community in the U.S. has been an ambassador for our country over many years. By putting forth their due diligence and sacrifice, the Koreans in the U.S. have taken the reputation of South Korea to a new height and have helped to build a stronger Korea-U.S. alliance.
With that in mind, The Minjoo Party and I have tried immensely to reflect the needs of overseas Koreans in our policies back home. We've worked to expand the rights of overseas Koreans. We've put in efforts to establish the Overseas Korean Center as well as enacting the laws to protect the rights of Korean citizens living abroad.
If we can change the current administration in South Korea, I will actively be at the forefront to solve the problems that many overseas Koreans face. Those problems may include better service at consulate offices and making policies that will make overseas Koreans to be proud of our country.
-What is your awareness of the overseas Koreans' situation?
▶ I still cannot forget the story of Hyo-won Kim from the last presidential election. Kim drove 2,000 kilometers from Bangalore to Mumbai for 40 hours just to be able to vote at the nearest consulate office. I am also fully aware that our citizens abroad was at the forefront of candlelight protests this past winter. I would also like to thank our citizens abroad for always supporting our country every time there is a difficulty. I am going to become a president who can help Koreans abroad to feel that they're truly proud of their country.
The Minjoo Party and I sympathize with overseas Koreans who face difficulties with educating their children while struggling through life in an unfamiliar territory. Late former president Dae-jung Kim founded the World Korean Business Convention and the World Korean Community Leaders Convention during his term. Then, the following president Moo-hyun Roh designated Oct. 5 every year as the Korean Day to celebrate our country and heritage across the world with the 7.2 million overseas Koreans. I will also further strengthen the financial support system for policies that protect our overseas citizens.
-What ideas do you have to protect the rights of overseas Koreans?
▶ I will actively support businesses of Korean communities abroad, which include establishing local Korean American Federation offices. I'm also going to promote events, such as the World Korean Community Leaders Convention. To enable the future generations of overseas Koreans to retain their identity and cultural understanding, I'm going to expand the investment into projects that invite Korean elementary, middle and high school students from abroad every year.
I will also do everything in my power to ensure safety of our citizens abroad by installing and managing an emergency center for overseas Koreans. I'll also expand the consulate call center in areas with a high population rate of overseas Koreans. Also, I plan on strengthening the legal advice and translation services that are available to our citizens abroad by raising the level of responsibility and professionalism among public servicemen and women who are employed in our overseas offices.
-What are your plans for building the Overseas Koreans Center?
▶ I've suggested a policy to expand and restructure governing bodies related to supporting our citizens abroad. As a part of that effort, I'm currently reviewing a diverse set of opportunities. Building the Overseas Koreans Center is just one of them.
-What are your thoughts on allowing dual citizenship?
▶ For ethnic Koreans who were given foreign citizenship due to the place of their birth, Korea is currently allowing dual citizenship as long as they agree to be under the laws for Korean citizens when they visit our country. Also, senior above the age of 65 and qualified professionals working in science, economy, culture and athletics could also be eligible for dual citizenship. I fully understand the demands of overseas Koreans who want the dual citizenship requirements to ease up a bit more. I will consider reasonable options by taking into account the public opinion in Korea.
-Do you have plans to support more Koreans to immigrate to foreign countries?
▶ We have a storied tradition of immigration and investment immigrations are still ongoing today. I will create strategies to promote a pathway to the rest of the world for young South Koreans with the goal of fostering globally talented individuals.
-Does the Korean government have plans to support overseas Koreans who are considering returning to their motherland?
▶ I will strengthen the administrative support system for overseas Koreans who are contemplating on moving back by expanding and restructuring the ongoing services.
-Overseas Koreans have an easier time visiting North Korea. It seems like you have a role to play in bridging the gap between the two Koreas. What are your thoughts?
▶ The inter-Korea relations have reached its worst point after nine years of power from Myung-bak Lee and Geun-hye Park. My administration will inherit the policies of Dae-jung Kim and Moo-hyun Roh, who've aspired to improve the inter-Korea relations. I'm also going to encourage and welcome efforts from overseas Koreans to contribute the improving this relationship. I believe that the overseas Koreans' patriotism and sacrifice will add a big strength into normalizing the inter-Korea relations.
-What kind of president would you like the public to remember you as?
▶ I'd like to become the first ever president to earn a nationwide support. I want to be remembered as the president who overcame the emergency situation in which the previous president was impeached. I want to be remembered as the president who upheld the values of South Korea's democratic constitution and ended the period of favoritism and nepotism by starting changes in politics and economy in a new era. I'm only going to trust the Korean people and continue to go my way.
By Wonyoung Lee