A positive Korean stereotype is that Koreans are trendy and well-dressed. Many Koreans put much effort into their clothing, hair, and accessories in order to stay up-to-date with fashion trends. The fashion among the youth is incredible. The biggest reason why they focus so much on appearance is that their culture focuses on how other people perceive them.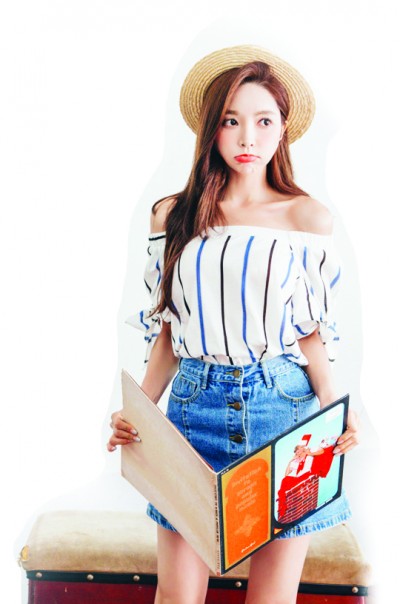 One of the biggest trends among Koreans for summer 2016 is 'Off-the-Shoulder Tops'. Women's shoulders are the go-to erogenous zone. Off-The-Shoulder Tops will certainly highlight your neckline and shoulder. It will be the it-look for summer in 2016. Gear up with these tops to follow the trend now!
As the rainy season (장마철; Jangma-Cheol) is nearing, you can expect to find many rainy day fashion items on the street. The rainy season in Korea usually starts in June and lasts for a month. Even during the rainy season, Koreans don't let go of the style. There are plenty of ways to look chic when the weather is not on your side, such as throwing on a linen jacket, rain boots, or Jelly Shoes.
Linen jackets match well with any simple underclothes. As lightweight linen and light cotton clothing make you feel much cooler than other fabrics, these are fit for the humid season in Korea. Also, for rainy days, Linen might get wet but will dry out quickly.
Rain boots will prevent your feet from getting soaked. There is a wide range of styles for rain boots you can match perfectly with your outfits. Be prepared with a pair of chic rain boots to make the perfect rainy day look!
Jelly shoes are another trendy rainy item for the rainy season. These water-friendly shoes will allow you to show off the style with a cool, casual summer outfit. If you are heading to the beach, it is even more perfect being extra comfortable and stylish. A strappy jelly sandal is the best go-to for you this summer.
By Daeun Jung