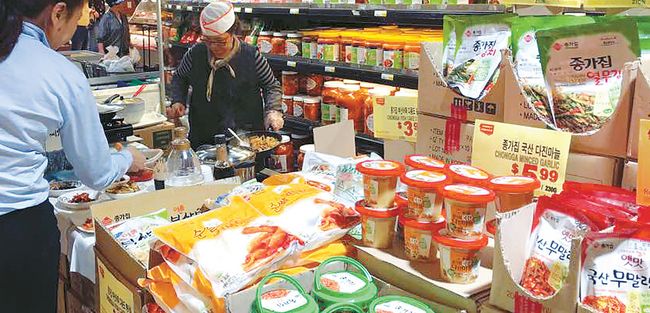 South Korea's agricultural and fishery trade industry is set to generate an export revenue of $1 billion in 2016.
As of October, the industry has pocketed $785 million in the current calendar year from exporting overseas, according to the Korea Agro-Fisheries & Food Trade Corporation's (aT) Los Angeles branch. The figure marks an 11.4 percent increase compared to last year's record during the same period. The total exporting revenue at the end of last year was $859 million, which is expected to be surpassed by this year's figure.
"In the U.S., importing South Korean food products has continued to increase," said aT's L.A. branch president Ju-pyo Lee. "At this rate, the total export revenue for Korea will reach at least $950 million to $1 billion."
The most popular items from Korea this year have been pears, various sauces, ramen, biscuits and kimchi. Each of those items have generated over $10 million, marking at least a 20 percent increase in export revenue compared to last year.
Korean pears, especially, have become something of a hallmark export item after entering its 31st year since it began getting exported overseas. Most notably, the demand for pears from South Korea is immense among Chinese consumers.
In the U.S., Korea's traditional "spicy taste" is steadily in an upward trend. The export revenue for gochujang, Korean red pepper paste, has soared by 86.4 percent since last year at $8.5 million, while kimchi has also raised $5.2 million.
The Americans are also purchasing Korean rice more than ever before. Korea has export 2,239 tons of rice last year, 367 of which was sent to the U.S. Although functional rice makes up most of the overall export rice from Korea, brown glutinous rice is also becoming more popular by the year.
However, a single item that generated the highest revenue this year is cigarettes, which raised $84.9 million this year as of October. That marks a 7 percent increase compared to the figure from the same period last year, hinting that Korean cigarettes are gaining more popularity in the American market.
After cigarettes, compound materials—amino acids and saccharine—was the most export item from Korea as it raked in $60.4 million. Seaweeds and beverages came in as third and fourth.
Although most Korean agro-fishery food products were export ed more than previous years, there have been a few exceptions. Reduced volumes of seaweeds, oysters, gelatins, noodles and chickens were exported this time around.
Seaweeds, in particular, have been one of South Korea's globalized goods, but its export rate decreased by 0.3 percent since last year after raising $57.9 million. Industry experts say that the decreasing export was triggered by the recently growing movement of seaweeds' higher manufacturing rate in the U.S., as evidenced by two seaweed factories that opened this year in Orange County.
Another reason for seaweed's waning popularity is the series of lawsuits filed against local businesses over its containment of lead, which Proposition 65 stipulates that all stores must provide a warning sign about the health risks.
By Sung Yeon Lee