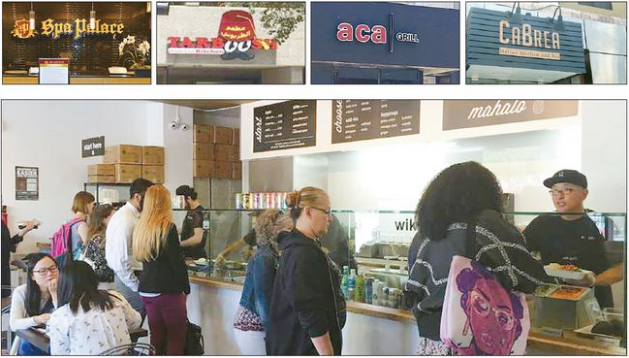 LA's Koreatown is not just for Korean food. As it is now become as the 'mecca' of entertainment, K-town is welcoming many global restaurants of foods all around the world.
Right now, there is an intense competition among restaurants that are especially popular to Koreans, such as Italian, Mexican, and Thai; and even with restaurants like Middle Eastern, French, Mongolian, and Taiwanese.
◇ Asian
Most Asian restaurants are all located in LA's Koreatown, including Vietnamese, Mongolian, Thai, Chinese, and Japanese.
Among these, Vietnamese has the greatest number of restaurants in town. There are 12 Vietnamese restaurants in total, from those run by Koreans to those run by actual Vietnamese people. Also, there 8 Thai restaurants that have Pad Thai and Tom Yum Goong, which are very familiar to a lot of Koreans.
Recently, many Taiwanese restaurants have been opening in K-town. 'Sheng' at the corner of 7th and Vermont opened early this year, and Taiwanese bakery 'JJ2 Bakery' opened near Wilshire and Shatto. At the bakery, you can enjoy desserts like watermelon cake or egg tart, along with boba and snacks including spicy popcorn chicken.
Located at a shopping mall at Vermont and 2nd, 'DJ Bibingkahan' is a Filipino restaurant. Filipino food is relatively not familiar to Koreans, but you can enjoy a variety of seafood at the restaurant. The most famous Filipino food chosen by Foreigners is 'adobo', which is a fried meat dish with the Filipino vinegar. Also, they have breakfast menu at an affordable price ($5.50), and you can enjoy unlimited fried rice and coffee.
◇ South American
South American BBQ restaurants are also popular, from the famous Brazilian BBQ place 'M Grill', to 'ACA Grill' at 8th Street, which is run by Koreans immigrated from Argentina. They are also popular among Koreans because they have traditional Argentinian dishes including asado, chorizo, and empanadas.
Located at 8th and Berendo, 'El Amanecer Salvadoreno' is an El Salvadorian restaurant. Pupusas are their signature menu, which is made with corn flower, cheese, pork, beans, and more.
◇ European and Middle Eastern
Opened last year, 'Le Comptoir' is a fusion French restaurant. The restaurant, which uses organic ingredients that are grown in a local farm, only has 10 seats, so they take reservations for just two times a day (6PM and 8:30PM). 'Ca' Brea' is a traditional Italian restaurant, located at Wilshire. 'Ca' Brea' originally opened in 1990 on La Brea, but it moved its location to K-town in November last year.
There are also Middle Eastern restaurants. Recently, 'Tarboosh' opened at the Equitable Life Building on Wilshire. At 'Tarboosh', you can enjoy a variety of food including Halal food, Turkish pizza, and 'Maklouba', which is an Arabic dish with lamb and vegetables. Across 'Tarboosh', 'Gyro' and 'The Halal Guys' are opening soon, which are both New York-style street food.
Original document available from http://www.koreadaily.com/news/read.asp?page=7&branch=NEWS&source=LA&category=&art_id=4302289
Translated by Audrey Joung