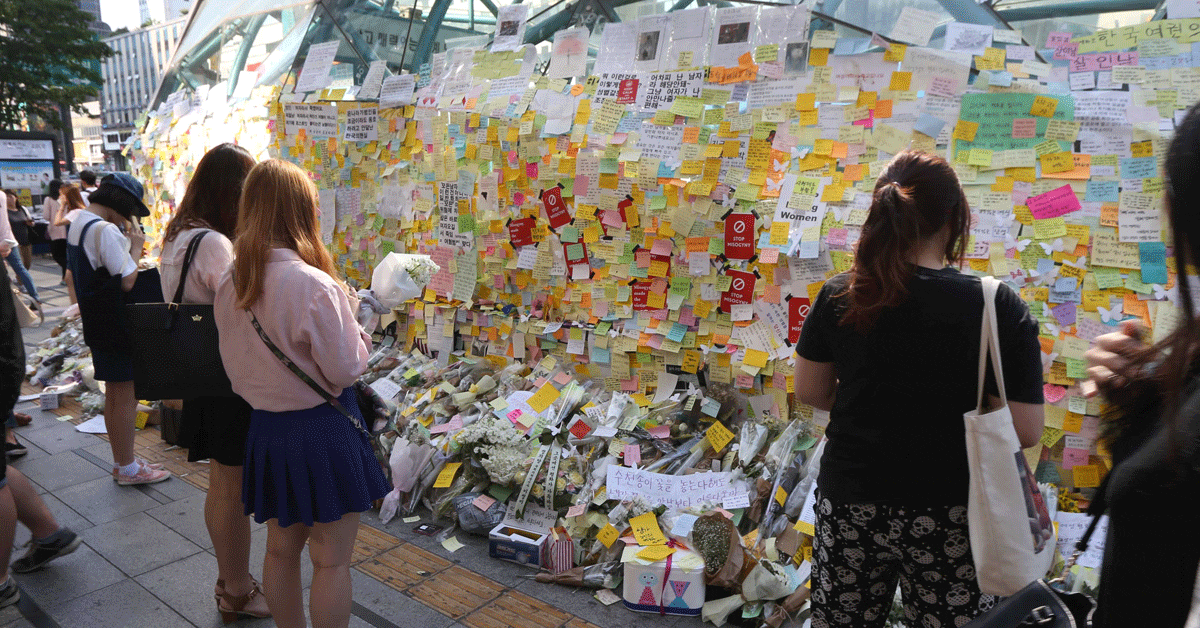 Various feminist groups across the South Korean peninsula are to gather for the commemoration of Gangnam murder case, which occurred on May 17 last year.
The Pan-Femi Network, which comprises 27 civic groups including Gangnam Station Exit 10, Labor Party on Women's Affairs, and Green Party Korea on Women's Affairs, will pay tributes to the victim by holding an event titled "Our Fear Has Come Back as Courage." The event will be held concurrently in Seoul near Gangnam station, Seomyeon in Busan, Dongsung-ro in Daegu, and some of other busiest streets in Korea.
"The Gangnam murder case has changed our lives," stated the Pan-Femi Network. "We still feel sorrowful and we still feel fearful of the violent society, but we won't stop making efforts to free our society from misogyny.
In Seoul, the commemoration will be held at 7 PM in front of Sinnonhyeon Station Exit 6, near the place where the case occurred. Participants will have a silent march to Gangnam Station Exit 10, where they will take off the surgical masks to indicate their will not to silence.
The Gangnam murder case, which is officially known as Seocho-dong public toilet murder case, refers to the murder occurred at a public toilet near Gangnam station where a 34-year-old man stabbed a 23-year-old woman to death.
Although refuted by the police, the case is understood by many as a hate-crime against women since the convict, who targeted a woman he had never met before, claimed that he committed murder out of hatred for women as they had "ignored and humiliated him all his life."
The Supreme Court handed down a 30-year sentence on April 13 to the convict. The parents of the victim have recently filed a 500M KRW (approx. $450K) lawsuit against him.
Despite his mental instability due to schizophrenia, the convict stated that he "doesn't feel repentant or regretful" during the first trial. The case fueled innumerable anti-misogyny protests, including the "post-it protest."
Original article by Han Young-hye
Translated by Heewon Kim