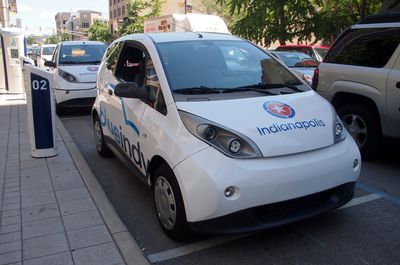 Electric car-sharing service is coming to the low income area of Los Angeles Koreatown.
The L.A. City Council announced the signing of a five-year pilot with Blue California, a subsidiary of France-based Ballore Group, which launched an electric-car sharing service in the U.S. last year.
Blue California plans to invest $10 million in five communities, including Koreatown, Downtown L.A., Hollywood, Pico Union and West Lake, in constructing 200 charging stations across the nation's second largest market.
The deal was struck on the backdrop of a shared interest among three parties—the L.A. City Council, Blue California and California's Air Resources Board (ARB)—as the general consensus in recent years have strongly advocated for the use of electric cars to battle global warming.
Many underprivileged members of the five communities currently use bicycle as the most commonly used forms of transportation due to the financial burden of owning a motor vehicle.
Even the residents who own cars drive old or heavily polluting cars. The city of L.A.'s deal with Blue California is expect to recruit at least 7,000 new car-sharing drivers who find it difficult to afford private vehicles.
To enhance their way of commuting while protecting the environment, the ARB has been encouraging the L.A. City Council to adopt the use of electric cars. Through the recent deal, the city council is set to invest $1.82 million, while the ARB also plans to add $1.67 million.
Blue California aims to utilize its new launching business in L.A. as a springboard to expand their reach within the country. Founded in 2011, the France-based firm first brought its sharing services to Indianapolis last year.
Thanks to the deal, Blue California will bring 100 electric vehicles and 200 charging stations in 10 different regions across the five communities. Drivers will be allowed to use cash or credit card to pay for their costs at the charging stations.
The city of L.A. expected approximately 7,000 residents will benefit from the service, while reducing individual car sales by about 1,000 vehicles.
By Hyoung Jae Kim