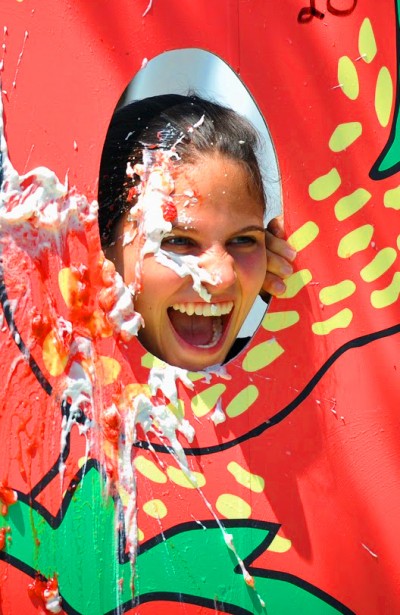 Garden Grove Strawberry Festival
Started in 1958, the Garden Grove Strawberry Festival is now one of the biggest events in Orange County with more than 20K visitors coming to enjoy strawberries and fun activities. The festival became a charitable event benefiting local organizations – in the past 50 years over $4.5 million has been donated to hundreds of non-profits.
This year, the festival is to be held on May 27 and continued through May 30. It will start off with an opening ceremony featuring celebrities and the world-biggest strawberry cake, which will be distributed to visitors.
Not only can you enjoy fresh strawberries and delectable foods made with strawberries, but you can also have fun on various rides. You can ride all day for $30 on Friday, $35 Saturday-Monday. Admission to the festival is free.
Tanaka Farms Strawberry Tours
Tanaka Farms located in Irvine offer Strawberry Tours.
Continued through June, Tanaka Farms Strawberry Tour is an hour-long wagon ride around the farm where you can sample many fruits and vegetables that are in season. The last stop on this tour is in the strawberry patch where you can pick and eat strawberries – each paying person will take home an one pound basket of strawberries.
Admission is $18 for each person over 2 years old and reservation is required for a party of 10 or more.
www.tanakafarms.com/tours-strawberry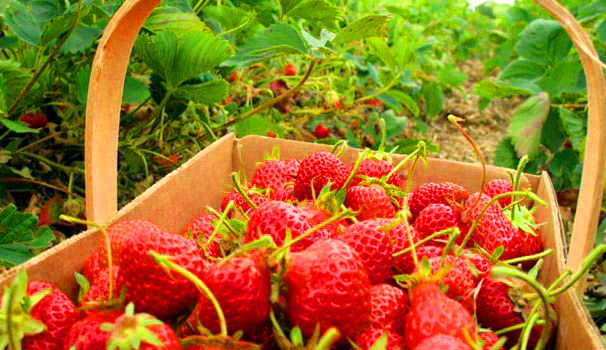 Underwood Family Farms Picking Tours
Farm Tours are either a strawberry or a vegetable picking tour where everyone will pick either a 1lb basket of strawberries or a bag of assorted veggies to take home. Both tours feature a vintage tractor drawn wagon ride around the farm, a shaded picnic area to enjoy your snacks or sack lunch, and a visit to Farm Animal Center.
Price for the picking tour which includes a one pound basket of strawberries or vegetables and a 2-hour-long picnic or visit to Farm Animal Center is $6 per each person. Strawberry picking tour is continued through August.
www.underwoodfamilyfarms.com/produce_picking_tours.html
Original article available from www.koreadaily.com/news/read.asp?art_id=4297832
Translated and edited by Heewon Kim