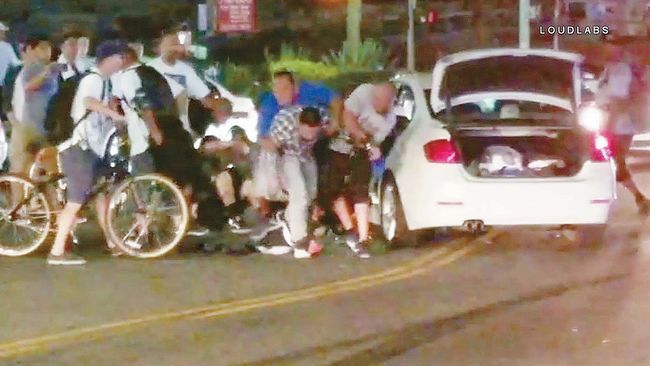 A collision between a car and bicycle on Aug. 3 at around 10:30 p.m. in Los Angeles Koreatown's Hobart Boulevard and Sixth Street prompted violence from those involved in the accident.
Local television network KTLA and several other media outlets reported that a flurry of bikers were passing through the state. They kept crossing the intersection even after the traffic light turned red. The drivers who were waiting for the street to open up were obviously left frustrated.
One of those drivers, in a white BMW, began driving through the intersection and collided with a biker. The driver reportedly drove over the biker's leg. When he tried to flee, the other bikers stopped the car and pulled him out. The bikers strangled the driver until the police arrived later.
Residents and business owners in Koreatown have been in a longstanding standoff with bikers on the road. Both drivers and bikers in the area have said that they are negligent on the road.
While drivers have to react sensitively to nearby bikers given their inevitable vulnerability, bikers feel threatened by the presence of drivers around them as well.
"Koreatown does not have enough lanes for bikers," said Kim, 25, who rides his bicycle to Koreatown for work. "Drivers here are often vicious. Bicycles are obviously slower than cars. When cars start honking their horns at me, I feel threatened."
Choi, 51, who drives through Koreatown every morning, said: "It drives me crazy when I see bicycles going around cars during rush hour when the traffic is heavy. I even had the urge to drive right at them when seeing them ride their bicycles in circles in the middle of the road. They sometimes go in multiple directions and do whatever they want."
It is also true that drivers must have the responsibility to understand the Bicyclist Rights (CVC 21200), according to the L.A. County.
All bicycles must be ridden by an able-bodied person. When riding at night, they must have a visible light on with a red light in the rear to alert the nearby drivers about their presence. When riding on the road, bicycles are advised to be on the lane on the far right.
Drivers must stay at least three feet away from bicycles. If not, a fine of $35 could be imposed on them. Drivers also cannot invade the bike lane. When an accident occurs, they must call the police and contact their insurance company immediately.
"An accident between a car and bicycle must be reported to both the police and insurance company," said an insurance agent. "It's also really important to make sure that there are witnesses."
Accidents between cars and bicycles often occur between 7 and 8 a.m. and 5 to 6 p.m., according to police reports.
Meanwhile, some conmen disguised bikers are on the road in and around L.A. to draw contact with cars. Lee, 43, who was exiting a market in Koreatown last weekend, said: "I was driving through the exit slowly, but a Hispanic biker suddenly appeared in front of me and fell. We didn't even make contact, but he kept talking. I had $80 in cash at the time. I just handed that over to him and left. He seemed like a con artist for sure."
By Woosoo Lee