Is it your birthday today? Are you suffering from the worst break up? Having a cheat day from diet? Or is it just one of ordinary days? Let's go grab a dessert! If mundane sweetness of a brownie or an ice cream is not enough to make your day better, here is a list of desserts that taste as good as they look.
1. Iced Drinks with Cotton Candy Clouds at Snow Monster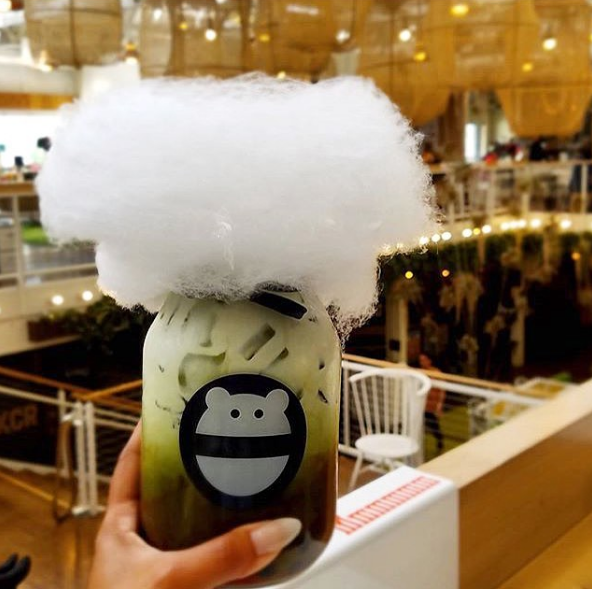 From colorful macaron ice cream sandwiches to taro shaved snow topped with fresh fruits and mochi, you can find a cute and creative selection of desserts at Snow Monster. The real star at this dessert shop, however, is the iced drink served in a mason jar, with the cloud floating around the bottle neck. Choose one among their iced drinks to make your own jar of cloud nine.
Location: Multiple; 5211 E 2nd St, Long Beach, CA 90803
2. Ice Cream Churros at The Loop
The Loop officially opened only a month ago, but it surely is one of the trendiest dessert places in the area. At The Loop, you can enjoy the new way of eating churros: customizing it. On a freshly fried loop-shaped churro, dress a glaze, sprinkle a topping, and complete the whole thing by dipping it in an ice cream topped with cheese cake bites, caramel popcorn, or crushed oreos.
Location: 9729 Bolsa Ave, Westminster, CA 92683
3. Ice Cream in a Puffle Cone at Cauldron Ice Cream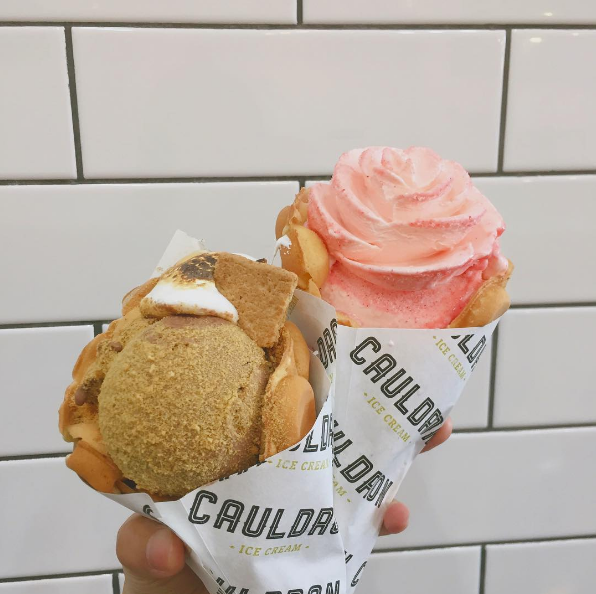 If you don't know what "puffle cone" is, it's an ice cream cone made with the Hong Kong egg waffle. At Cauldron Ice Cream located in Santa Ana, you can enjoy the whole variety of nitrogen ice creams in these edible bubble wraps. Not only is the idea about using an egg waffle as the cone creative, but Cauldron's selection of liquid nitrogen ice cream flavors are also ingenious: Earl Grey Lavender, S'Mores, Milk and Cereal, Rose Water, and even more!
Location: 1421 W MacArthur Blvd, Santa Ana, CA 92704
4. Ice Cream Bun at Afters Ice Cream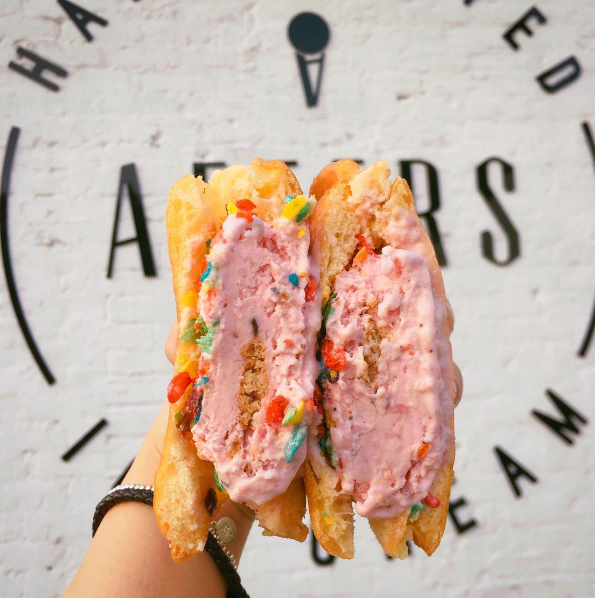 Everything ice cream sandwiched is good. And slightly savory warm buns are no exception. This ice cream sandwich, called "Milky Bun," is available in multiple flavors like Strawberry Cookie Crunch, Cookie Monster, Churro, Cookie Butter, and Jasmine Milk Tea. Various toppings are available as well to add more color and flavor!
Location: Multiple; 1265 E Green St, Pasadena, CA 91106
5. Ice Cream Taco at CREAM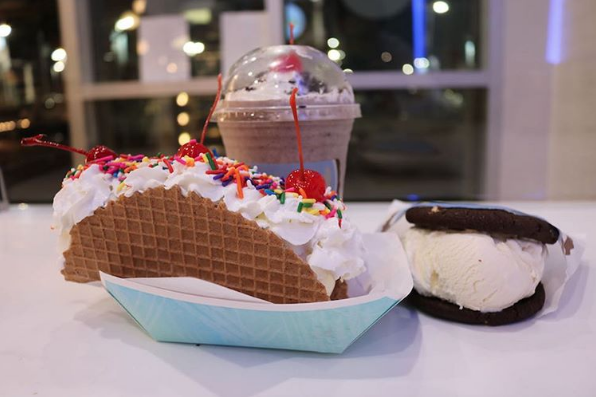 Another cool way to enjoy your ice cream is here at CREAM! At CREAM, you can choose three ice cream flavors and two toppings to create your own ice cream taco. Classic sundae-like toppings with whipped cream and cherries are popular, but don't fear being creative! Throw gummy bears, fruity pebbles, and whatnot on your ice cream taco and enjoy the new creation.
Location: Multiple; 3335 S. Figueroa St, Los Angeles, CA 90007
By Heewon Kim