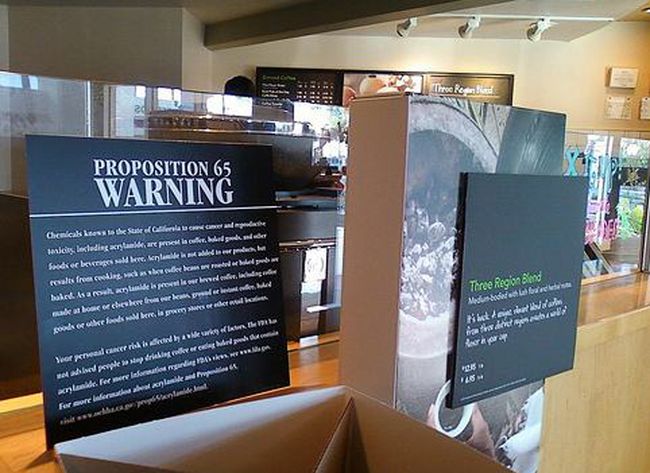 Concerns are growing as a series of lawsuits are getting filed by those who target businesses that do not abide by Proposition 65.
In many of the large grocery markets, signs are displayed prominently as a warning about violating Proposition 65, which mandates the sale of carryout bags. Similar messages are also shown at large coffee franchises, such as Starbucks.
However, many Korean businesses in Los Angeles Koreatown are still missing the signs, which could potentially lead to legal issues.
The official title of Proposition 65, first introduced in 1986, is "The Safe Drinking Water and Toxic Enforcement Act of 1986." Its purpose is to warn consumers about the consequences of purchasing or using goods at various businesses that contain hazardous substances, which could inflict physical harm and in some cases, chronic illnesses such as cancer.
The list of hazardous substances registered to this date is over 900, while the signs are required for businesses that have at least 10 employees. Plastic bowls, cans, cosmetic products and furniture may all contain those substances.
The signs are required for a wide range of businesses, including hospitals, gas stations, auto repair centers, furniture stores, restaurants, coffee shops and more.
Although such a law has existed for years, it has not been enforced in the last few years. The clampdown on its enforcement was triggered by a series of lawsuits against various businesses in Koreatown.
As early as 2010, nonprofit organizations began an organized effort to take legal action against cleaners and cosmetic shops in Koreatown. Since then, restaurants and markets have also come under scrutiny for not displaying that mandated warning signs. Even the large Korean markets were recently sued by a consumer advocacy group for selling imported seaweeds from South Korea, which essentially forced them to display the signs.
Despite the growing problem, however, many businesses in Koreatown still remain oblivious to the consequences of not displaying the required signs.
Lawsuits related to Proposition 65 usually result in businesses getting imposed with a fine of up to $2,500 per day in which the sign is not displayed during hours of operation.
"Many businesses are still not aware of what Proposition 65 stipulates," said California's Office of Environmental Health Hazard Assessment (OEHHA) deputy director Sam Delson. "Business owners are responsible to check how Proposition 65 affects their operation. The list of substances is updated every year, so it's not always easy to stay on top of how and what the required sign must display. The best and fastest way to find out is to confirm with the manufacturers and suppliers."
Delson added that the signs are not required in three cases; (1) if the business has no products that contain substances that are deemed hazardous by the OEHHA, (2) if hazardous substances contained in goods are below the designated Safe Harbor Level, (3) if the business has 9 or less employees.
More information is available on https://www.p65warnings.ca.gov.
By Sung Cheol Jin