Spring in SoCal wasn't like the usual; days were cloudy and nights were chill. Without seeing much sun, however, we are on the middle of June already. As weather forecasts let us expect sunny days from today on, why not pack a beach bag and drive out to a nearby beach? Although all are in Southern California, each has its own appeal.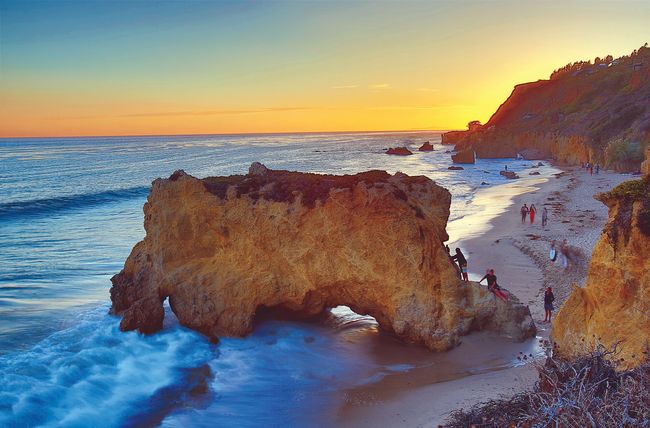 El Matador State Beach
El Matador is one of the most beautiful beaches in Malibu, attracting many beachgoers with sea caves and large rocks on its beach area. Because it's easy to miss the small sign pointing toward the beach, pay a special attention when exiting from the Pacific Coast Highway. If you make it on time for the sunset, you will be greeted with a spectacular view.
Address: 32215 Pacific Coast Highway. Malibu
Cabrillo Beach
Cabrillo Beach is comprised of two beaches – one outside the breakwater with ocean surf, and the other within the harbor, gentle and quite perfect for families with children. Spend some time at Cabrillo Beach swimming, surfing, scuba diving, and playing volleyball, then go to Cabrillo Marine Museum to spend rest of the day learning about the sea. You can conveniently park at the museum parking lot as well.
Address: 3720 Stephen M. White Drive San Pedro
Zuma Beach
Zuma Beach surely is one of the biggest and the most popular beaches in LA County. Not only do kite surfers come out to Zuma Beach for their pastime activities, but climbers also visit here for rock climbing. Since the beach is located towards north, temperature of the water is as low as 68F even during the hottest days. In the winter season, you may also encounter with migrating whalesif you get lucky enough.
Address: 30000 Pacific Coast Highway. Malibu
Leo Carrillo Beach
If you drive on the Pacific Coast Highway 28 miles toward north from Santa Monica, you will find Leo Carrillo State Park on your right. This State Park makes a perfect destination for camping by the beach. Reserve a camp site and enjoy swimming, surfing, fishing, and camping at one spot.
Address: 35000 W. Pacific Coast Highway. Malibu
Original document available from www.koreadaily.com/news/read.asp?art_id=4356303
Translated and edited by Heewon Kim