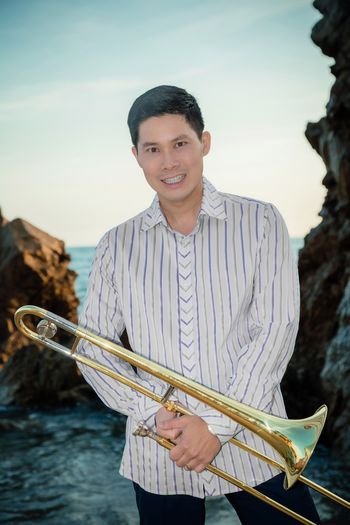 "I hope my singing helps patients to recapture their peace."
William Sewan Baek, 43, is a doctor specializing in internal medicine. He recently released an album with songs he had composed over the years as music has always been his passion.
"I contemplated a lot during high school," Baek said. "I was at a crossroads between choosing to become a doctor like my parents wanted and becoming a singer."
In the end, Baek chose to follow his parents' advice. He confessed that it would have been difficult for him to pursue a career in music when everyone in his family, including father, uncles, and cousins were doctors. He simply could not go against the family tradition. After graduating Seoul National University's medical school, he went through a residency program in the United States. Although most of his family members are cosmetic surgeons, he chose to become a neurologist. Ten years after becoming a doctor, he began dreaming of singing again.
Baek stresses that it is not the luxury of being a doctor that enabled him to release the album. In fact, he is still looking for supporters to fund promotion for his album as well as producing a music video. He is also reportedly promoting a good cause as all of his songs are dedicated to patients suffering various illnesses. Baek said his songs were inspired by his patients, who suffer illnesses such as stroke, Alzheimer's, Parkinson's disease and Lou Gehrig's disease.
"I'll give myself up one day. I'll forget myself one day. Memories will fade. Every day will be the same. Even on the streets at night, this is where I have nowhere to go. There's someone staring at me in the mirror. Don't think that I still exist. My mind has already gone."
The lyrics may remind listeners of a typical love song, but Baek explained that he wrote those words for his Alzheimer's patients. He realizes that some may believe he is playing around with a mere hobby before adding that he is still stressing over where he should shoot his music video.
Although Baek has only released three songs, he is trying to transcend genres. His ballad song was made to sympathize with stroke patients, while the techno dance music was made for Alzheimer's patients. Baek is reportedly the first neurologist to pursue a pro career in music.
"I'm only starting to realize my dream," Baek said. "I'd like to pave my own way. If you listen to my music carefully, you'll be able to understand the minds of my patients. My music should help the public to better understand the minds of the patients, especially if someone close to them is suffering from an illness."
Aside from music, Baek also has linguistic talent. He possesses a medical interpretation certificate in Korean, English and Spanish. He can also translate German and Japanese, while he speaks conversational French and Italian. He sometimes works as a translator on the side. He graduated from Seoul National University in 1999 and attended medical schools at Chicago Medical School and UCSD.
Following is a list of his tracks. Someone else (Alzheimer's), Chained to a dream(stoke), Love again (Lou Gehrig's disease), I really need you now (physical abuse victims), In my tears (children who lost their parents), La pelicula blanca (moms with mentally ill children), Inside these walls (children who grew up in orphanage), Jumpstart (myasthenia gravis), Set your body free (Parkinson's disease), Walk again (spinal damage)
By Byung Chang