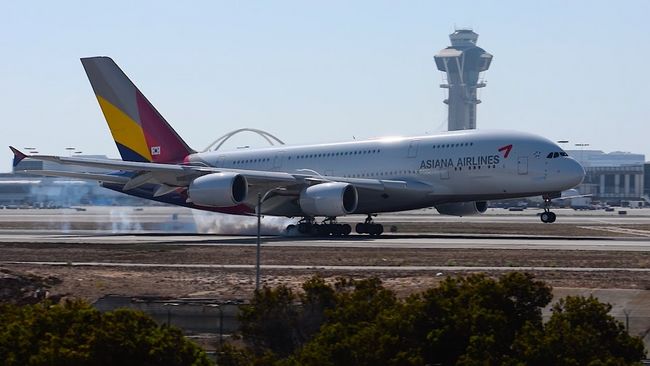 "I'm scared to take Asiana these days. There was a big accident a few years ago, but even taking that side, there are just too many delays."
Complaints within the Korean community in Los Angeles over Asiana Airlines' habitual flight delays are growing louder than ever before. Over the last three months, there have been several delays that postponed departure from the LAX by at least four hours. Significant delays occur at least once a month, fueling suspicion over Asiana's self-proclaimed efficiency of its A380 aircrafts, which it calls the "special edition."
Even an Asiana employee, who wished to remain anonymous, told the Korea Daily, "I have no idea why this keeps happening. These delays happen every time the airline is about to build some momentum with earning the customers' trust. It's been difficult."
The latest delay occurred on Oct. 27 when the flight scheduled to depart the LAX at 12:10 p.m. for New Zealand was delayed by four hours, causing inconvenience to 433 passengers. The reason for the delay was due to insufficient fuel, which required safety maintenance, according to Asiana Airlines' L.A. branch.
While it is true that flight delays are not limited to Asiana, such events have been occurring more frequently for the South Korean airline than others.
Another Asiana flight which departed the LAX on Oct. 12 returned to Los Angeles three hours after taking off as there was a visible steam coming out of the aircraft's cargo area. The flight was eventually rescheduled to take off a day later.
In early August, there was another delay of around four to five hours after it was identified that the A380 aircraft needed to replace its engine. A couple weeks later, a flight scheduled to take off from L.A. at 12:20 a.m. was delayed by 27 hours for a maintenance error, which started a domino effect to delay the following flights as well.
It is also strange that the delays have been only occurring for the A380 aircrafts. One industry expert explained, "Unlike Korean Air which operates over 10 different models of aircrafts, Asiana has just four A380 aircrafts for routes that cover L.A., New York, Frankfurt (Germany), Hong Kong, Japan and Thailand. So if any one of those flights are delayed, that automatically causes delays for flights scheduled in other cities as well.
It would be fine if they had replaceable aircrafts, but covering a long distance flight with limited aircrafts is difficult."
To rectify such an issue, Asiana plans to add two more A380 aircrafts to its midnight flights that depart from the LAX. It also plans to add another aircraft in December, which hints that the currently existing problems may be solved by then.
By Moon Ho Kim