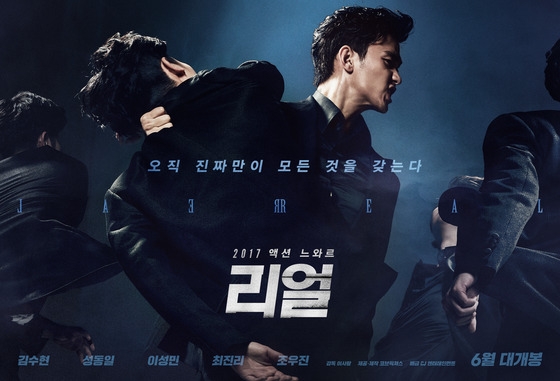 Real, a Korean action noir film starring Kim Soo-hyun, Sung Dong-il, and former K-pop girl group F(X) member Sulli, is suffering from harsh audience reaction. Opened only a few days ago, the film is quickly building a bad reputation.
People who have watched the film seem to overcome the pain with humor. On social media, sarcastic comments about the film are drawing much attention. Below are some of the good ones.
"I've been suffering from insomnia for 10 years but for the first time in a decade, I could sleep so well. For those who can't sleep, I highly recommend watching Real instead of taking pricey propofol."
"You get to sigh every 5 minutes."
"I'd rather watch cereal for two hours."
"I deserve a 10-star for watching it."

"It makes studying fun."

"For making other Korean films masterpieces by becoming so dreadful itself, I find a resemblance between this film and the sacrifice of Jesus Christ. The sacrifice of Real should be remembered over generations."

"I started smoking again for the fist time in 5 years."
"Watching this film makes me think that Transformers: The Last Night is a masterpiece."
"Watching people leaving the theater was more entertaining than the film. One of them even yelled out for the main character's death so that the movie ends soon. The sound was so grandiose that I thought maybe Wonder Woman is making an appearance but I was even more surprised to see Kim Soo-hyun playing that role. Cheer up, Kim Soo-hyun."

"Wait for the post-credits scene, everyone. Kim Soo-hyun joins the Avengers! Tony Stark approaches him in the credit cookie."
Real, an action thriller noir film directed by Lee Sa-rang, follows the underworld troubles as a troubleshooter Jang Tae-yeong (Kim Soo-hyun) gets involved with a mysterious sponsor for his casino business. The film opened in local theaters on June 28.
By Heewon Kim