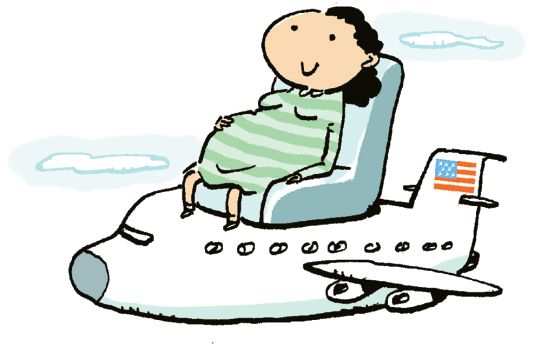 A South Korean woman, who only identified herself with her last name Kim, came to Los Angeles for the sole purpose of giving birth to her second child. After giving birth, the mother signed a three-month apartment lease in Koreatown where she was looked after by a caretaker until she had fully recovered. "Even though it cost more than going to a postpartum care center, the caretaker looked after me really well, so I am satisfied with my experience," she wrote recently in a Korean online forum that's designed for prospective mothers interested in giving birth in the U.S.
Another mother, this time a Korean-American U.S. resident, who recently gave birth to her child at the same hospital was taken aback when she first visited the facility. "A month before my due date, the hospital gave me a 20-page guidebook, which included detailed descriptions about how uninsured mothers should file their paperwork, application process for the newborns' American passports and the directions on how to relocate the babies legally to South Korea," she said. "It was obvious that the guidebook was designed for South Koreans who only came to the U.S. to give birth."
Among many South Korean mothers, the idea of giving birth to their children in the U.S. to give them American citizenships has long become a phenomenon, because they perceive it as something of a "life insurance" for the entire family.
Even Korean immigrants in South America have made their way stateside to give their newborns the privilege of becoming American citizens.
Mothers who choose to give birth in the U.S. say that an American citizenship comes with many benefits that they won't dream of getting back home. Some of the perks, they say, include a chance for their children to later attend U.S. schools without having to pay the considerably more expensive international student tuition. Being under the protection of the U.S. government has become a life insurance for the entire family, as U.S. citizens also are given rights to apply for permanent residency status for their parents if they are foreigners.
For those mothers, Los Angeles is essentially a one-stop, do-it-all destination, mainly because the city offers an airport with direct flights to South Korea and hospitals that can accommodate patients whose first language is not English.
Some hospitals' maternity services in Los Angeles have even hired Korean-speaking nurses for South Korean patients, who pay at least $4,300 for natural delivery and $7,000 for Caesarean section.
South Korea's Ministry of Health and Welfare estimates that around 5,000 mothers fly out to the U.S. annually to give birth. There are even arrangement agencies in South Korea for prospective mothers, whose trips to various U.S. territories are organized for a set fee of around $20,000.
"There are 24 rooms for patients at our facility and around a third of them are currently occupied by those who gave birth after traveling from Korea," said a chief of one L.A.-based postpartum care center, who wished to remain anonymous. "We get at least three to seven patients from Korea and there are second and third generation Korean immigrants from South America who also choose our facility."
The U.S. is one of few remaining developed countries to offer jus soli, the right of anyone born within the country to a citizenship.
By Hyong Jae Kim