After satisfying you belly with a feast of Korean bbq, Soon Tofu, or some other your favorite Korean food, it's time to satisfy your sweet tooth! If you're looking for a cozy space to grab a unique dessert and have a little chat with your friends in Koreatown, we've got it covered.
1. Sul & Beans
Shaved ice makes the best buddy for hot summer days in Los Angeles. At Sul & Beans, you can try a Korean version of shaved ice – Bingsoo. Located in Madang Mall, Sul & Beans is the perfect dessert place after watching a movie at CGV or having some Ddeokbokki at School Food. Classic version of Bingsoo is topped with sweetened red beans and Ddeok, but more variety is available at Sul & Beans – mango, taro, black sesame, strawberry, and chocolate, with the star being Ingeolmi Bingsoo. If you feel like going for something warm, try Injeolmi Toast. Chewy rice cake sandwiched between breads and topped with honey and soy bean powder… it's hard to imagine how delicious it is until you actually taste it.
Location: 621 S Western Ave #208, Los Angeles, CA 90005
2. CottonHi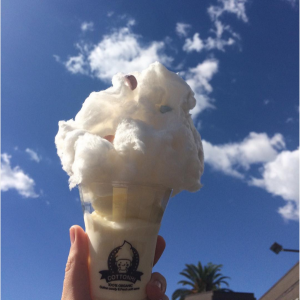 CottonHi is one of the most Instagram-friendly spots in Koreatown. At CottonHi, your choice from a wide variety of creative soft serve ice creams is served in a cup. Cake-inspired flavors, including Red Velvet and Tiramisu, won't fail you while Mango Cheese Delight topped with cubes of mango and cheese cake bites is also popular. But the real star is Hi CottonHi – organic cotton candy on the top of your choice of soft serve. Flavors for the cotton candy are also more various than you can imagine, made even more tasteful when combined with fresh soft serve.
Location: 3825 W 6th St, Los Angeles, CA 90020
3. Awesome Coffee

Awesome Coffee is a place where you can enjoy freshly made liquid nitrogen ice cream. If you're a coffee connoisseur looking for a chic coffee shop is Koreatown, you may find your answer in Awesome Coffee. Our rec for the dessert lovers is their ice cream waffle. A warm and crispy waffle topped with freshly made liquid nitrogen ice cream and berries… you just can't deny it!
Location: 3959 Wilshire Blvd, Los Angeles, CA 90010
4. Alchemist Coffee Project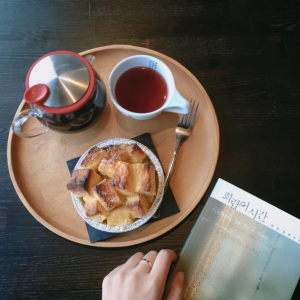 Former Bourbon St Cafe is now re-created as a cozy, stylish cafe where you can meet with friends or bring a laptop to study. Alchemist offers the whole range of espresso beverages, either classic or creative, bitter or sweet. Their bakery collection is not bad at all either, sweet enough to satisfy your sweet tooth. Cheese cake, macaron, or bread pudding alongside carefully crafted coffee make Alchemist the place to spend time in Koreatown.
Location: 698 S Vermont Ave #103, Los Angeles, CA 90005
By Heewon Kim