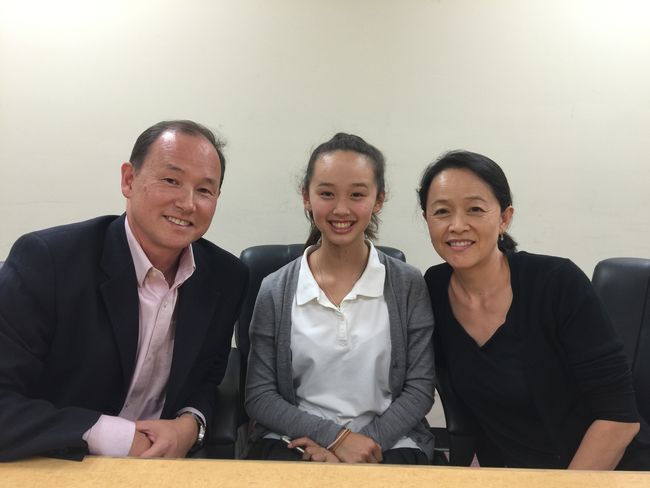 Professional designs and colorful textures are among the notable features of the swimsuits on the recently launched website, which primarily sells bikinis to visitors from all over the world. There are photographs of young models on the website, looking not only professional, but also joyous in those designer swimsuits.
All of this was done by a 15-year-old Madison Choi, a second generation Korean-American who is currently a sophomore at Marlborough High School in L.A. Koreatown. In an age that is still young enough to require her parents' mollycoddling, Choi is now a legitimate business owner with her newly-launched online venture, Epoch Swimwear.
"I really wanted to make the best clothes in the world," said Madison. "I was so eager to do it that I couldn't fall asleep at night. I drew hundreds, maybe even thousands of designs and dreamed of the day they would become real."
Madison was only 14 when she made up her mind to launch Epoch Swimwear. She even took a strategic approach to choose swimwear to start her career, as she felt that it was the simplest pieces of clothing to design. But aside from brainstorming ideas, the challenges ahead to realize her dreams were obviously endless at first.
"I had no idea how to move on to the next step and what to do even if I were to get there," said Madison.
Passive attitudes, such as waiting around or asking someone to lead her, were not an option, she said. So Madison made her way to Downtown L.A. to find the right fabric for the swimsuits, but the business owners there were not responsive to a 15-year-old.
"That was the first challenge for her," said David Choi, the father. "She found a manufacturer after overcoming so many obstacles, but they didn't come up with the sort of quality clothing that Madison had wished. After repeating those difficulties, she began to learn how to work around the obstacles to find her way towards what she wanted."
Madison began looking for the right manufacturer on the Internet instead, as she felt the need to expand her reach beyond Downtown L.A.
"I was disappointed with the quality I got in return [from the Downtown manufacturers]," said Madison. "I wanted to make the best clothing in the world."
After three months of searching relentlessly, Madison finally found a place that met her lofty standards. That is when she decided to go all-in, investing thousands of dollars of allowances she has been saving over time to order 600 sets in three different colors for the two designs she worked tirelessly to complete.
"Neither my husband nor I were able to guide her as we work in completely different fields," said Susan Choi, Madison's mother. "All we could do was to drive her around."
After finding the manufacturer, Madison then began developing her photography skills, as she needed professionally taken photos of her swimsuits for the website. Impressed with Madison's work, her friends volunteered to be her models.
By April, everything fell into place and the website (epochswimwear.com) had launched. The name derived from Madison's mission to invite anyone who is open to wearing clothes that can help themselves reach a new epoch.
Madison utilized social media to promote her business and has already garnered moderate following. Orders came in from all over the country. After launching the website with a collection of spring beachwear, she has put out her summer collection.
Other distinguished features of Madison's bikinis are that they are reversible and that the customers find the strings for the tops immensely fashionable.
For all her business savvy, though, the next step in order for Madison is to get into a university. As she is still only 15, she has yet to take the SATs.
Although Madison still dreams of one day launching a world renowned fashion brand, she has no intention of studying fashion in college. She apparently excels in math and science, while she also has a deep interest in business marketing.
Finally, Madison added: "It makes no sense when people blame lack of experience, bad timing or financial difficulties to explain why they can't do what they want."
By Byung Chang