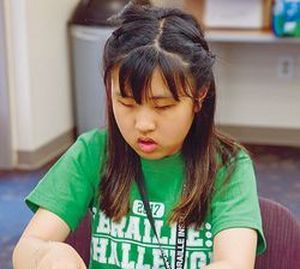 "I'll continue to challenge myself and do even better next year"
A Korean-American girl withstood a 0.04 percent chance by advancing to the final of the Braille Challenge 2017 National Finals. Her name is Dorothy Cho, a 12-year-old who lives in Anaheim. A five-year veteran at the tournament, Cho said that her goal is to remain hopeful and to "read more" to challenge herself.
The Braille Challenge 2017 National Finals were held at USC last Saturday. The competitors faced off in reading and writing braille codes accurately. Around 1,200 visually impaired children in both the U.S. and Canada competed against one another.
The age groups were also diverse, ranging from first-grade elementary school children to seniors in high school. Only 50 of them were eligible to compete in the finals. The five areas of the challenge included reading, grammar, graph reading, speed reading and correcting grammar.
"This tournament started to raise awareness among the visually impaired on just how important it is to read," said Braille Institute president Peter Mindnich. "The tournament is designed to help the visually impaired children to understand their own potential. Only 40 percent of America's visually impaired teenagers graduate from high school. One of our goals is to help them achieve their academic goals."
Cho was born with an inherently impaired vision due to a disease sustained through genetics. After learning how to read braille codes, she began competing in tournaments since 2012. At first, Cho was nowhere near talented enough to even make it further in the tournament let alone advancing to the national finals.
However, she never gave up. She improved every year and was finally able to become a finalist. Her favorite hobby now is reading. Cho said that she has already finished reading five of the seven Harry Potter books.
Her dream is still ongoing. The final goal is to make the national top three at the national finals. When asked if her dream may just be too big, Cho answered: "I just try my best as I always have until now."
By Jiyoon Kim