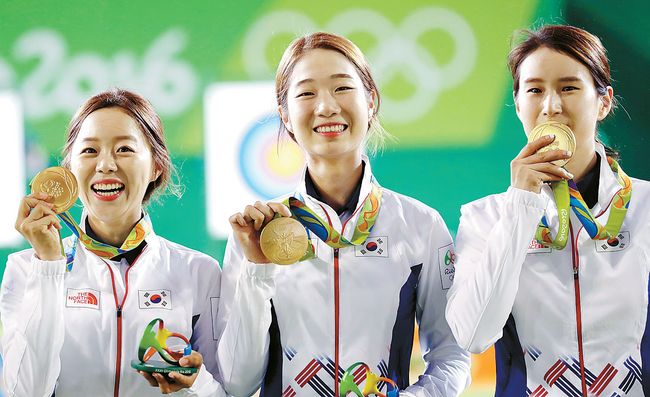 On Sunday, August 7, South Korean archer BoBae Ki steadied her aim and released a whizzing shot that hit a perfect mark, ensuring an emphatic victory for the South Korean women's archery team.
This marked the eighth consecutive time the South Korean women's archery team has medaled since the team's introduction to the event in 1988, making it the nation's most successful event in the Olympics.
The South Korean team consists of number one world-ranked archer Bobae Ki, 20-year-old Gwangju Women's University student Misun Choi and 2014 Incheon Asian Games gold medalist Hyejin Chang.
The South Korean trio met their lucky number at 5-1, beating all of their opponents by the same margin, first defeating Japan 5-1 in the quarterfinals, then Chinese Taipei (Taiwan) 5-1 in the semifinals to advance to the finals against Russia with a final score of 5-1.
"I thought of all those people who really supported us. It was not won only by the three of us," Ki said of the victory.
Ki, the London 2012 individual and team champion, now holds 3 Olympic gold medals and is 1 medal shy of tying with the women's archery medal record held by Olympian Soonyung Kim.
South Korea continued dominating at Rio the following day as the under 23 men's soccer league defeated Fiji 8-0 and moved on to pull off a major upset by tying with Germany 3-3.
Lots of movement characterized the South Korea-Germany match. Korean striker Hee-Chan Hwang scored the first goal in the 25th minute, quickly equalized by German midfielder Serge Gnabry, who scored twice throughout the match. Korean striker Hyun-Jun Suk scored next as well as German striker Davie Selke in the 55th minute. Korean forward Heung-Min Son scored to tie the game in the 57th minute of the exhilarating match.
So far, South Korea holds 5 medals in Rio, gathering 2 gold medals in Archery, 2 silver medals in Judo, and 1 bronze medal in Weightlifting.
Originally reported by SeungWoo Shin
Original article manuscript can be found here 
Translated/Adapted by Hankyul Sharon Lee