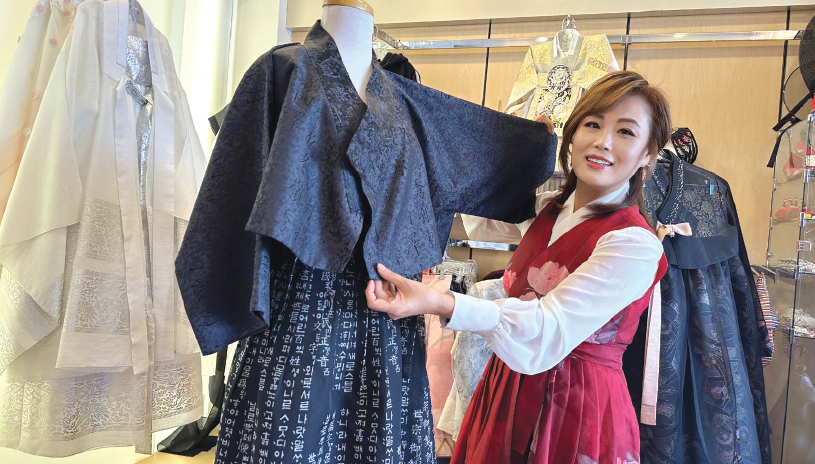 A Korean American-owned Hanbok (Korean traditional dress) company is making its mark by showcasing Hanbok at the Smithsonian Institution, a premier museum globally.
The Smithsonian Foundation is set to host a Chuseok Family Festival at the Smithsonian's National Museum of Asian Art from 11 a.m. to 4 p.m. on October 7, commemorating the Korean holiday.
LeeHwa Wedding and Hanbok will host a Hanbok trunk show and will have Hanbok and traditional fashion accessories for sale in the gift shop, announced the foundation.
Being the sole invitee to the 40,000-person Chuseok celebration, LeeHwa plans to display 15 Hanboks and over 50 traditional Korean fashion accessories. They will also organize a Bojagi (Korean traditional wrapping fabric) workshop. "By pairing beautiful hanbok with Bojagi bags, we aim to highlight the remarkable sustainability and eco-friendly facets of traditional Korean attire," commented Laura Park, CEO of LeeHwa Wedding and Korean Traditional Dress.
The company will persist in selling Hanbok and fashion accessories in the Smithsonian's gift shop post the Chuseok festival. Their Hanbok and more than 50 accessories are of 100% quality, and they've recently completed their inaugural order. Notably, a Hanbok often sells for over five times the price of a kimono.
LeeHwa Wedding & Hanbok, which inaugurated a Hanbok specialty store in LA Koreatown in 1993, is steered by five generations of Hanbok craftsmen.
The Hanbok venture commenced with Park's maternal great-grandfather, a silk merchant in Sunchon, South Pyeongan Province. The legacy was then handed down through her grandmother, who managed a cloth store in Dongdaemun Market. Park represents the fourth generation, with her daughter, Estella, following as the fifth.
Having managed the Hanbok specialty store for 32 years, Park began by selling fabrics in her early 20s upon her arrival in America. She simultaneously pursued a degree from the fashion school FIDM while balancing work and family. After her graduation, she conceived Korean fusion weddings, fusing her lineage's Hanbok artistry with contemporary designs, gaining nationwide popularity.
"Today," she remarks, "our store has branched out from Los Angeles, becoming the most extensive Hanbok specialty store in the U.S." She attributes this expansion to her daughter, Estella. Post her graduation from UC San Diego, Estella's prowess in marketing and management expedited the Hanbok enterprise's entry into the mainstream. Actively advocating the allure and superiority of Hanbok via platforms like YouTube, Facebook, Instagram, Pinterest, and TikTok, their clientele has evolved, with 85 to 90 percent now being non-Koreans.
"My life philosophy is Fashion, Passion, and Mission," declared Park, "with an ultimate goal to create a specialized online platform for Hanbok and to introduce Hanbok to museum gift shops nationwide."
On a side note, the Smithsonian Foundation, established in 1846 in Washington, D.C., oversees 21 museums. This roster includes the National Museum of Asian Art, the Smithsonian National Museum of Natural History, and the Air and Space Museum.
BY EUNYOUNG LEE  [lee.eunyoung6@koreadaily.com]