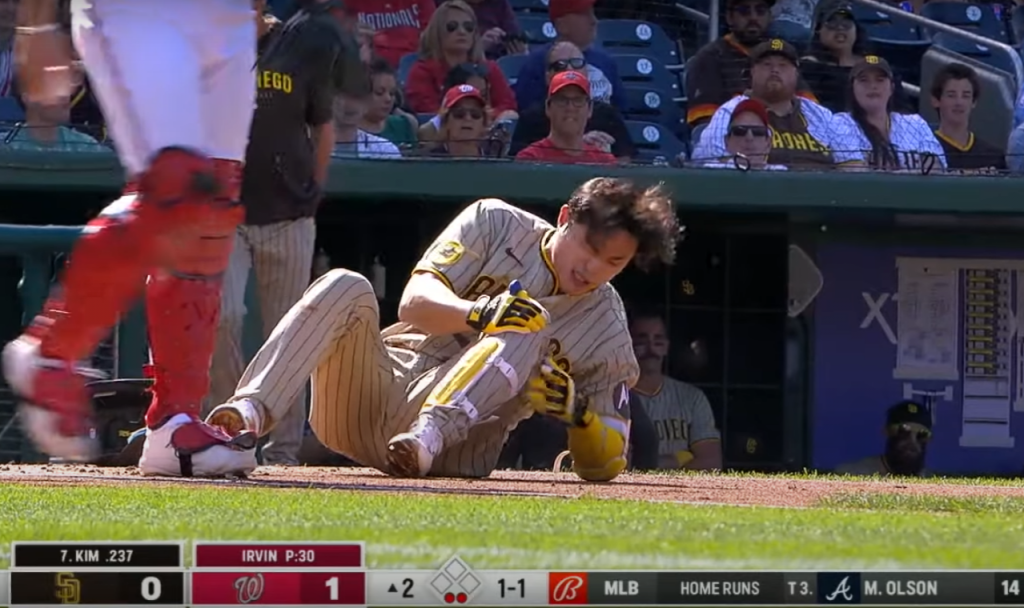 Kim Ha-seong of the San Diego Padres has suffered a bruised left knee after fouling off a pitch, though he will likely avoid a trip to the injured list (IL).
Kim exited the Padres' 8-6 victory over the Washington Nationals in the top of the second inning at Nationals Park in Washington on Thursday (local time), after fouling one off the inside of his left knee.
Kim went down to the ground immediately in obvious pain and had to be helped off the field by two trainers.
According to Padres manager Bob Melvin, X-rays on Kim's knee came back negative.
"Fortunately, everything came back clean, and I heard it's just a contusion," Kim said through an interpreter, according to MLB.com. "But it hurt. It hurt bad. I'll have to see how I feel the next day."
Even without an IL stint, Kim may still miss the Padres' next game Friday against the New York Yankees.
"Right now, it's kind of hard to walk around," Kim said. "When I first got hit, I was thinking the worst-case thing happened. But fortunately, I got a good result, a better result than I expected."
Losing Kim to any extended period would have been another devastating blow to the Padres infield. Earlier this month, they lost All-Star third baseman Manny Machado to a fractured metacarpal in his left hand when he was hit by a pitch.
Kim had shifted to the hot corner with Machado sidelined, after playing mostly at second base. Now in his third season in the majors, Kim has built a reputation as a fine defender anywhere in the infield. He was a finalist for the Gold Glove award at shortstop last season.
Yonhap