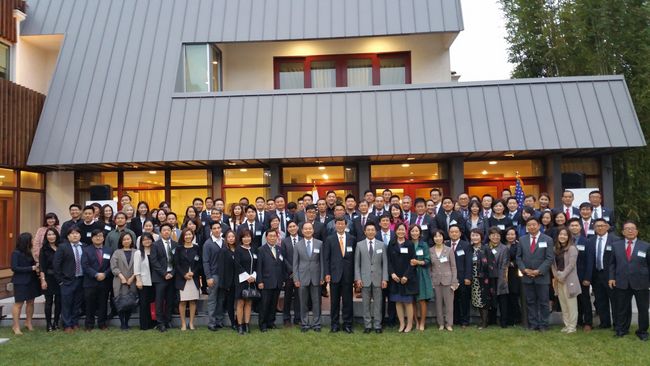 It was an awkward scene; grown men and women, already well into the prime of life, trailed behind their parents in silence.
That is how a business mixer for young businesspeople and leaders of the Korean community started at the South Korean consulate office in Los Angeles on May 9. Presented by the Korean consulate office and the L.A. Korean Chamber of Commerce, the business mixer deliberately targeted both first and second generation Korean-Americans with the goal of improving relations between the groups.
A lot has been said within the community about the need for the first and second generation Korean-Americans to interact and communicate more. However, it has not always been easy for second generation Koreans, with their limited grasp of the Korean language, to step up to the plate and engage the older generation.
"Korea is a country that warrants strong pride as it's the only country in the world to fully democratize and industrialize among the countries that gained independence after the World War II," said L.A. Consul General Key-cheol Lee at the mixer.
Lee's words helped break the ice; following his speech, the awkward atmosphere dissipated, and the younger attendees, now at ease, began mingling and networking. Soon enough, many introductions had been made and countless business cards exchanged hands.
Andrew Suh, council aide for Councilmember David Ryu, explained the daily life of assisting a politician. Ray and Justin Kim, sons of a fruit jelly business owner Bong-hyun Kim, stood before a crowd of elderly men and discussed their business model.
Cal-City Construction owner Woo-Sung Lim's son, James, and Koam Construction owner Chun-shik Kim's son, Daniel, said that they have been assisting their fathers for nearly 10 years and that they expect the mixer to help their businesses. Okta LA chairwoman Jung-sook Lim attended the mixer with her daughter, Dana.
"I came here only because my friend asked me to, but this is great," said Daniel Kim, a computer programmer at event promotion business Live Nation. "It's my first time at the consulate office, and I was able to meet some peers to learn about their businesses. I hope to have more opportunities like this in the future."
Kwang-ryul Yoo, the event organizer, said: "We invited 130 people. About 45 attendees were in their 20s and 30s, while we had 66 people in their 40s. The value of providing an opportunity for such a diverse group of Korean-Americans is huge."
L.A. Korean Chamber of Commerce Eun Lee said: "If the second generation Korean-Americans develop a better understanding of the Korean society, our competent as a community will only get bigger. We hope to have more opportunities like this."
By Moonho Kim