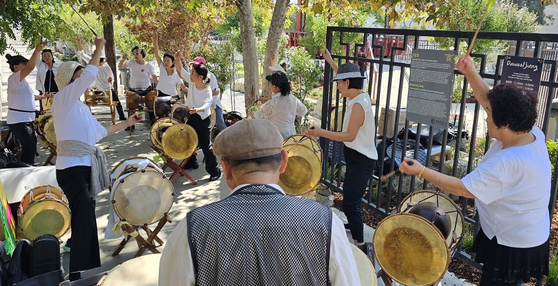 Koreatown Senior and Community Center (Chairman: Moon Seop Chung) will host a Chuseok feast for Korean and Korean American seniors on Sept. 26.
The festivities will also mark the inauguration of the center's ninth chairman, Yong Sin Shin, as well as the grand opening of Da Wool Jung, a Korean-style gazebo.
The Senior Center will treat 300 seniors (who have previously received an invitation) to a complimentary lunch, including Songpyeon (half-moon-shaped rice cake). Additionally, attendees will receive a 15-pound bag of high-quality rice and Nongshim Bibim Myun 'Noodle Salad' as gifts.
The event is set to kick off with a performance by the Senior Center's Janggu (hourglass-shaped drum) class. Subsequent performances will feature Korean dance, piano, harmonica, and Koreatown Dance students.
The Senior Center commented, "In addition to celebrating Chuseok, we're inaugurating our new executive board and officially opening the doors of Da Wool Jung, generously donated by the Korean American Chamber of Commerce Los Angeles. We hope this gathering brings joy to all in attendance. Our senior members have passionately prepared for their performances over the last six months."
The event will take place in the Senior Center's 2nd-floor auditorium located at 965 S. Normandie Ave. #200, LA.
For further details, please contact: (213) 387-7733
BY SUAH JANG    [jang.suah@koreadaily.com]