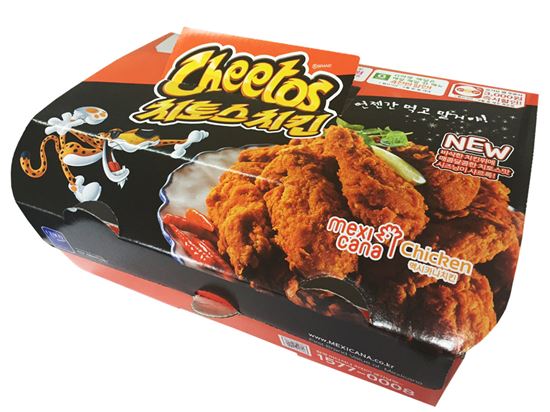 Many of the food connoisseurs are aware of the fact that South Korea knows how to fry chickens. Even though it is far from the food's origin country, Korea is one of the best places in the world to rejoice the juiciness of a well-fried chicken.
What distinguishes Korean fried chicken is its use of marinades. In Korea, people enjoy fried chickens soaked in various marinades, which range from sweet and spicy gochujang marinade to savory garlic soy sauce marinade.
Mexicana Chicken, which is one of the widely known fried chicken franchises in South Korea, is taking the marinated fried chicken to the next level. Mexicana, in corporation with Lotte Confectionery, is launching a fried chicken that tastes just like Cheetos.
By sprinkling Cheetos seasoning on top of the well-fried chicken, the new item from Mexicana re-creates the world's most popular cheese puff snack in a fried chicken form. The fried chicken is delivered to you, boxed in a package designed like that of the original snack.
Those who've tried Cheetos Chicken find the combination surprisingly harmonious. As the use of cheese-flavored seasoning for fried chicken is not a new idea in the country, people find the flavor of the fried chicken somewhat familiar.
Cheetos Chicken is available from Mexicana Chicken stores in Korea. A box of a whole chicken costs 18,000 KRW.
By Heewon Kim