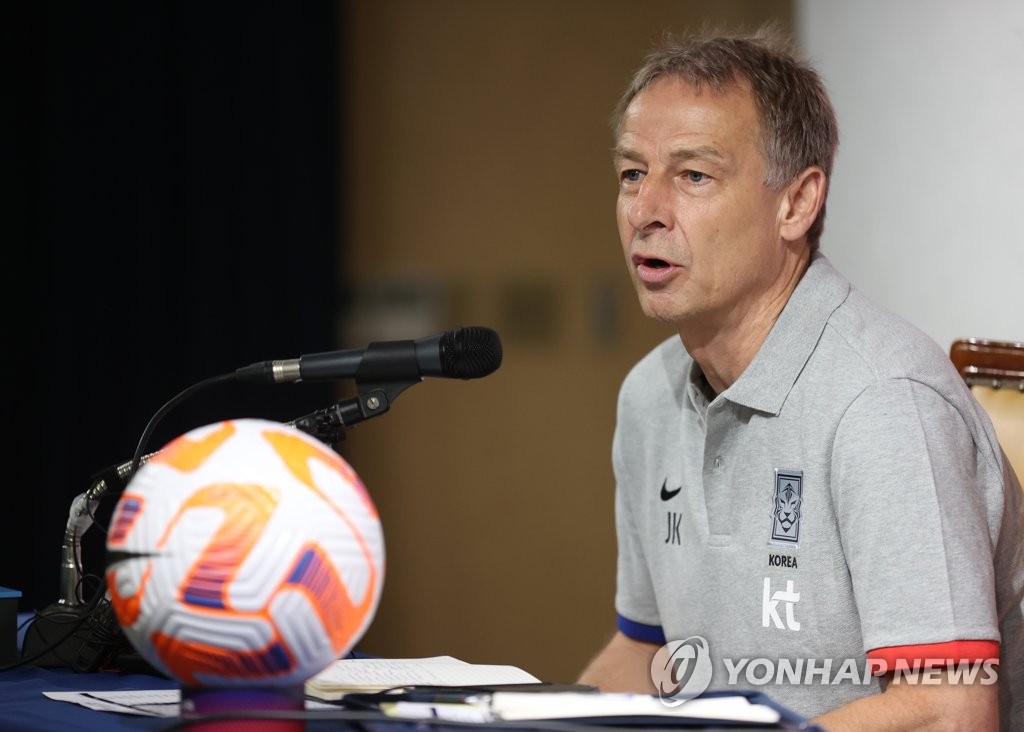 Korean national team head coach Jurgen Klinsmann called up 23 players for two June friendlies on Monday, slightly tweaking the squad he inherited in March and used for his two games at the helm.
Klinsmann called up 23 players for a friendly with Peru on June 16 and with El Salvador on June 20.
Napoli defender Kim Min-jae is not on the roster, as he has to fulfill his mandatory basic military training during the FIFA international break in June.
Veteran defender Kim Young-gwon of Ulsan Hyundai is also missing due to an injury.
Some new names on the roster include midfielder Hong Hyun-seok of KAA Gent, midfielder Park Yong-woo of Ulsan and defender An Hyun-beom of Jeju United, all of whom have been on solid form this season.
Son Jun-ho of Shandong Taishan is another notable name that Klinsmann included, although he is unlikely to actually be able to report for international duty. The German manager opted to call up Son as a show of solidarity with the 31-year-old midfielder, who has been detained in China since May 12 on bribery charges.
The arrest came after a crackdown on match-fixing in Chinese football, but has also been interpreted as a possible political move aimed at putting pressure on the Korean government.
The Korea Football Association (KFA) sent officials and its in-house attorney to China last week to try and find out exactly what allegations Son is being held on, but returned to Korea on Monday without a concrete answer.
"Son's own attorney balked at arranging a meeting between Son and our people," a KFA official said on Monday. "And Chinese officials told them they didn't have anything to say about the situation."
Under China's Criminal Procedure Law of China, the government can detain an individual for as long as 37 days without a warrant — Son Jun-ho has been detained for 26 days as of Tuesday.
"Our roster you see today might not be the roster you see next week," Klinsmann said, implying that he might replace Son Jun-ho with someone else in the event that he cannot compete. "There are always changes. It's an open situation."
The current roster Klinsmann announced has some new names in defense and midfield, but his attacking options are the same as before.
All three forwards that competed in the March friendlies — Oh Hyeon-gyu of Celtic and Cho Gue-sung of Jeonbuk Hyundai Motors and Hwang Ui-jo of FC Seoul — are on the roster again.
Oh has been in the best form among three, picking up seven goals across all competitions with Celtic in the 2022-23 season, including two goals in the club's last league game against Aberdeen on May 27. He returns to Korea days after winning the Scottish FA Cup on Saturday to complete a Scottish treble.
The other two forwards have scored two goals apiece in the K League as of press time Tuesday.
The three goalkeepers Klinsmann selected are also the same as before: Kim Seung-gyu of Al Shabab, Jo Hyeon-woo of Ulsan and Seong Bum-keun of Jeonbuk.
Alongside Son Jun-ho, Hong Hyun-seok and Park Yong-woo, Na Sang-ho of FC Seoul, Son Heung-min of Tottenham Hotspur, Won Du-jae of Gimcheon Sangmu, Lee Kang-in of Mallorca, Lee Jae-sung of Mainz, Hwang In-beom of Olympiacos and Hwang Hee-chan of Wolverhampton Wanderers complete the midfield lineup.
Kwon Kyung-won of Gamba Osaka, Kim Ju-sung of FC Seoul, Kim Jin-su of Jeonbuk, Park Ji-soo of Portimonense, Seol Young-woo of Ulsan and Lee Ki-je of the Suwon Samsung Bluewings join An in defense.
Klinsmann is especially keen to test out the new K League players he selected after observing their league games in person.
"First of all, it's exciting to watch a new league more in detail and get an idea of players, coaching approaches and styles that they play," Klinsmann said.
The entire national team will gather and start training on June 12, two days after the European football season ends with the Champions League final.
The upcoming two friendlies are an opportunity for Klinsmann to secure his first win with the Taeguk Warriors. His debut match with Colombia ended with a 2-2 draw and his second game against Uruguay ended with a 2-1 loss.
The friendly with Peru will take place at Busan Asiad Main Stadium in Busan on June 16.
BY PAIK JI-HWAN [paik.jihwan@joongang.co.kr]