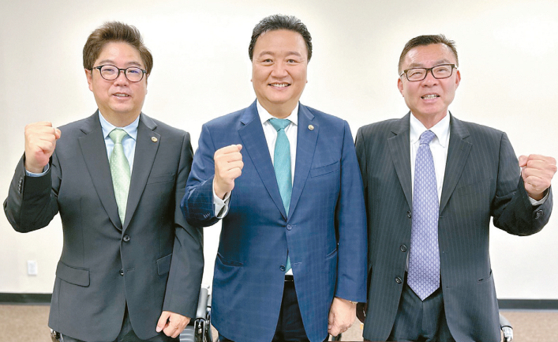 The 47th President and Board of Directors of the Korean American Chamber of Commerce Los Angeles (KACCLA) have commenced their activities with a focus on developing projects to aid Korean American small businesses.
President Peter Kim, Board Chairman James S. Hong, and Senior Vice President Kyung Hyun Kim visited the Korea Daily's office on July 25 to explain the organization's initiatives and operational objectives.
President Kim stated, "As part of our pledge to 'implement concrete projects that can help small business owners,' we have initially formed a TF team to create a map of LA Koreatown."
"On July 21, we held our first meeting with the participation of Yongho Kim, chairman of the Southern California Korean American Food Industry Association, to discuss the intention and direction of the project," he added.
With the goal of revitalizing the town's restaurant scene, the TF team decided to incorporate bilingual Korean-English signs and QR codes for smartphones on the map, making it easily accessible not only to Korean Americans but also to visitors of other ethnicities.
President Kim explained, "We plan to produce and distribute 100,000 maps within this year. Further, we will continue to discuss specifics such as production costs and distribution methods with the TF team."
Regarding strengthening communication with second-generation Koreans, President Kim revealed, "We have agreed to hold a collaborative mixer event in downtown LA in September with 'MAUM,' a socializing gathering of second-generation Korean American businesspersons. This event will provide a great opportunity for first-generation and second-generation professionals and business owners to network."
He further added, "In early October, we will be hosting a meeting to strengthen our ties with the city government, as L.A. Mayor Karen Bass attended the inauguration held on July 12 and expressed her desire to engage directly with the Korean American community."
Additionally, the Chamber has tentatively decided to host a golf tournament on November 10 to raise funds for their operations.
Hong, who served as the 46th LA Chamber Vice President, expressed his enthusiasm, saying, "I am grateful and excited for the opportunity to serve as Board Chairman of the Korean American Chamber of Commerce Los Angeles. As it is the first year after the end of the pandemic, we will do our best to become an organization that can assist Korean American small business owners who are facing various difficulties."
Meanwhile, concerning the World Korean Business Convention, scheduled to open in October in OC, President Kim stated, "The organizers have announced that they will work to attract local Korean businesses and companies before the start of the convention. As a result, we will support the connection of businesses in the LA area."
BY NAKI PARK [park.naki@koreadaily.com]