Friday August 12, 2022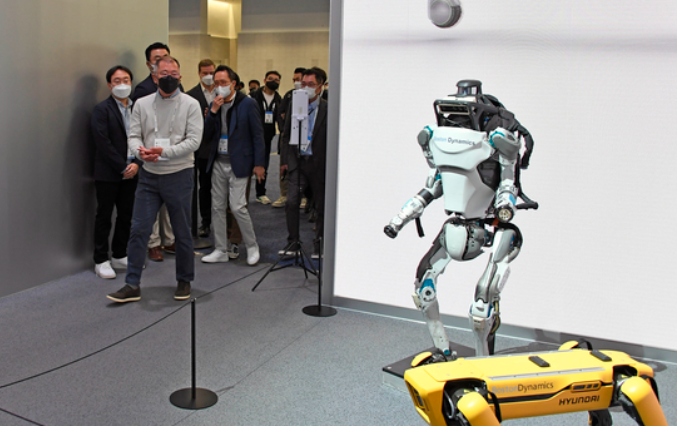 Hyundai Motor and its affiliates announced an investment of $424 million Friday to build a research center for robots in the United States and an acquisition of local autonomous driving start-up 42dot for 427.6 billion won ($328.4 million).

Located in Boston, Massachusetts, the robots center will research the development of robots not only for transportation and logistics but also services and as virtual assistants.  

While Hyundai Motor, Kia and Hyundai Mobis will make the investment, Boston Dynamics, a Waltham, Massachusetts-based robotics designer owned by Hyundai Motor, will likely run the center.  
https://91ccab7dfab4f2f4aaaf81fd08dd6b5b.safeframe.googlesyndication.com/safeframe/1-0-38/html/container.html
Boston Dynamics Chairman Marc Raibert will be at the helm of the center, tentatively named Boston Dynamics AI Institute. Its location on the East Coast will offer access to a pool of engineering and science talent, and the center will collaborate with institutions and colleges, according to a statement.

The center will have two areas of focus: foundational technologies for improved mobility and intelligence of robots and the development of artificial intelligence (AI) software systems for robots made by different manufacturers.

"The robot AI research center will be focused on securing foundational technologies for next-generation robots," Hyundai Motor noted in a statement.

"We will keep on enhancing robots' ability to move and comprehend while deploying and training them with data about interaction with the external environment with an aim of eventually pushing the boundaries of the existing robotic control systems," the manufacturer said.

The center will work on devising a business model for a software platform that can be used by different robots.

The company also plans to establish a research center specializing in software in Korea, although it didn't give details on location or the size of the investment.

Tentatively named Global SW Center, the research facility will pull together resources related to software from different affiliates including Hyundai AutoEver.

To improve its digital capability, Hyundai Motor acquired 2.1 million shares of 42dot for 274.7 billion won, according to an electronic disclosure on Friday, pushing its total holdings in the start-up to 55.9 percent.

Kia bought 1.2 million shares for 153 billion won, becoming the second-largest shareholder with 37.3 percent.

The start-up is on track to develop AKit, software used to guide autonomous vehicles and TAP!, an app that shows the optimal route for autonomous cars.
BY PARK EUN-JEE [park.eunjee@joongang.co.kr]