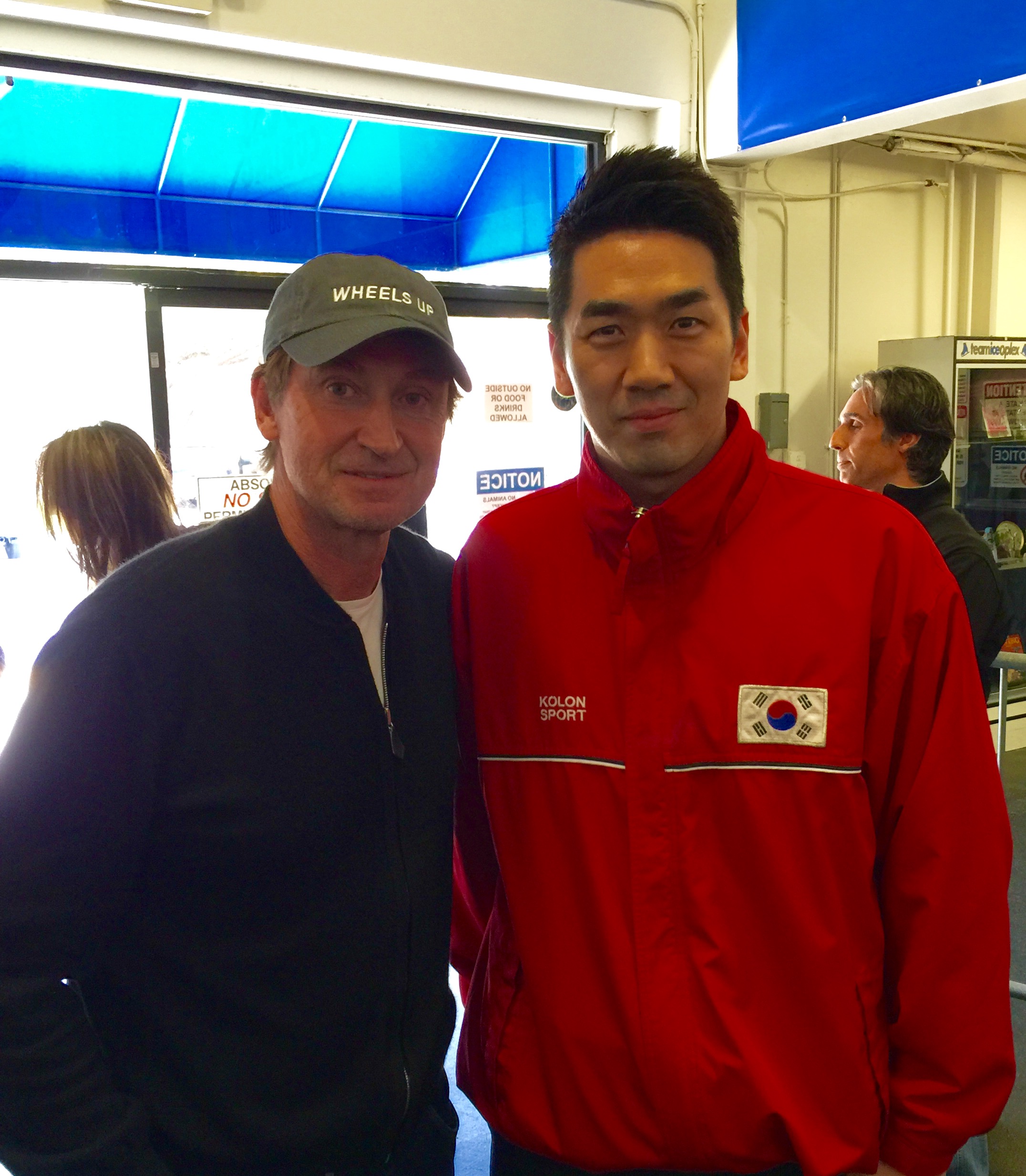 Legend of Ice Hockey, Wayne Gretzky met his long-time fan, Park Young-bae, who grew up seeing Gretzky's gorgeous plays and built up his dream to be an Ice hockey player.
Park, a former Korean national Ice Hockey team player, is now coaching at Pasadena Ice Hockey Class.
From the 13th of last month for a week, Park proudly ran the ice as a coach at Simi Valley's 'Gretzky Ice Hockey Camp'.
Coach Park said, "Gretzky was my idol during my childhood. He is like Pele of Soccer and Michael Jordan of Basketball. I was more than happy to participate as a coach at the class run by the legend".
Looking back to the last few years, Park says it was a 'reckless challenge' for him. It all started back in 2015 when he coached eight Korean grade school students, who visited the Gretzky Camp. He also first met Gretzky and exchanged greetings at the time.
The camp was amazing. The coaches were some of NHL's legends, and even currently active NHL players were there as special coaches. The young Korean players, who were sharing the rink with other American players, improved their skills day by day.
That's when Coach Park decided to be a coach at the camp. He wanted to coach more and more Korean players at the camp. As soon as the summer camp was ended, he sent his resume to not only Gretzky, but also other officials of the camp. Yet, there was no single reply until the end of the year. But Coach Park didn't give up and continued contacting them.
Finally, after his long-time effort, he received a call from one of the camp's officials. He then visited the camp with young Korean players, and received a coach test on the first day. Of course he was qualified. From then, he taught ice hockey skills including skating to not only Korean, but American players, as well.
Coach Park said, "The Korean players' abilities and skills developed so much that they were the center of attention at the camp. I also created opportunities for networking by telling the officials about the improved environments of ice hockey in Korea".
To anyone who is interested in ice hockey, Korea national player Park Young-bae's name should be familiar. Having taken an elite course of Kyung Hee Elementary and Middle School, and Kyungbock High School, Park was a forward player, who always received attention. Furthermore, during his years at Kyung Hee University, he presented a championship cup in 1998 as the first time in 21 years of the university's history. Park also left a deep impression, showing a remarkable play as a key forward player in Korea's national team.
Despite his solidly planned future, Park wanted to dream bigger. He wanted to create 'sport-entertainment', which is a combination of sports management and entertainment.
Park enrolled in graduate school choosing not to go into the Japan league although there were many opposite forces around him. He continue pushing forward.
To experience a bigger league, Park wildly crossed the Pacific, and after many twists and turns, he finally became a coach at Pasadena ice hockey class.
He started broadening his ice hockey network by first creating acquaintance with LA Kings Players, and now finally up to Gretzky. Park is delivering his stories through frequent Facebook updates (www.facebook.com/laicehockeycamp).
Coach Park has a lot coming up in near future, and he is even getting ready for after PyeongChang 2018 Winter Olympics.
He also said, "I am focusing on creating the Gretzky Camp in Korea for the first time next year or the year after. I think there will be Korean players entering NHL after the Olympics. I hope to help them with settling down here."
He continued and said, "I'm making a guideline for Korean players' entering the American rink. That's why I'm teaching my players not only ice hockey, but also English and networking skills."
Los Angeles Ice Hockey Camp:
(213)215-5636
www.facebook.com/laicehockeycamp
Original article available at http://www.koreadaily.com/news/read.asp?page=1&branch=NEWS&source=&category=society.people&art_id=4400391
Translated by Audrey Joung