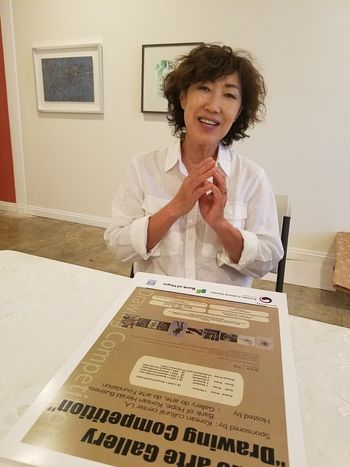 "I'd like to work for the betterment of the community, just like the Korea Mecenat Association."
Gallery Do Arte began promoting its drawing contest since June. The gallery only opened less than a year ago. It was a positive news as there have not been many contests for artists in Koreatown to showcase their skills.
With only two weeks to go until the deadline, Gallery Do Arte director Susan Hwang has been busily reviewing the drawings that have come in so far.
"The drawings keep coming in," said Hwang. "We haven't been getting as many, maybe because this is the first year of the contest. We expect more to come in closer to the deadline."
Frankly, the inspiration behind the contest lies in Hwang's passion for art and her community.
"I believe that the culture of arts must grow together with the economy of the Korean community," Hwang said. "I wanted to contribute even a little bit to that growth."
It was also Hwang's pure passion that has convinced the likes of Bank of Hope and the Korean Culture Center in L.A. to sponsor the contest.
"I first piqued interest in hosting the contest after seeing the Korea Mecenat Association," Hwang said. "I'd like to work to provide a balance between the economy and arts, just like how the Korea Mecenat Association does."
The panel of judges will apply a strict set of standards when reviewing the drawings. Cal State art school's Mark Steven Greenfield and Getty Museum curator Stephanie Schrader are among the judges.
There are no restrictions when applying to enter the contest. All types of drawings are accepted. Anyone 18 or older is eligible. For the student contest, the applicants are limited to those between seventh grade and seniors in high schools. Oct. 5 is the deadline.
The first place will earn $2,000 and a certificate. The gold award will be given to a general and student participants, both of whom will each earn $1,000 and certificates. Two silver award winners will receive $500 with 10 bronze award winner taking certificates and other gifts. Applications are accepted via email (gallerydoarte@gmail.com).
More information is available on the Gallery Do Arte website.
By Sooyeon Oh