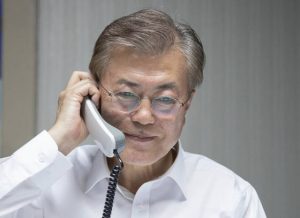 In his first phone call from the leader of a foreign country, newly elected South Korean President Moon Jae-in spoke with U.S. President Donald Trump by phone on Moon's inauguration day. The call lasted for around half an hour with Trump congratulating Moon on his election victory late Wednesday. President Moon said, "I am so pleased to receive the first celebration phone call from President Trump."
"I am glad to work with Trump who has powerful leadership, and we are looking forward to contributing to stability and prosperity in both countries," he added.
Moon said that the alliance between South Korea and U.S. is essential to dealing with the uncertainty facing South Korea and the surrounding situation. He emphasized, "South Korea-U.S. alliance is the foundation of Seoul's security and diplomatic policy, and it always will be." Afterward, he stressed, "I highly appreciate that President Trump put effort on prioritizing the restraint over North Korean provocation and nuclear threats."
Accordingly, President Trump replied, "North Korea's nuclear issue is troublesome but it can be resolved. South Korea-U.S. alliance is more than just having a good relationship, but we're in a great alliance." Trump added that he hopes to hold a summit soon.
Original article by Heo Jin
Translated by Juna Moon