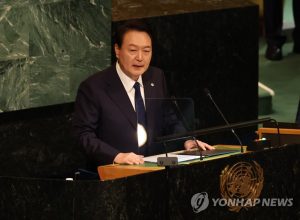 At the United Nations Tuesday, President Yoon Suk-yeol invited the international community to join South Korea in its use of freedom and peace to overcome global challenges.
"When the freedom of any individual in a nation comes under threat, members of the community must join hands to remove the threat and defend freedom," said Yoon in his first address to the UN General Assembly in New York. "Likewise, when the freedom of any citizen or nation in the global community is in peril, it is the community of nations that must stand together in solidarity to defend that freedom."
Yoon said the theme of the 77th session of the General Assembly, "A watershed moment," encapsulates the "gravity of the global crisis" and that the "answers begin with solidarity and deference to the universally accepted global norms" of the decades-old UN system.
"Genuine freedom is not just being free of the shackles but having opportunities to live life to the fullest with dignity," said Yoon. "Genuine peace is not an absence of war but removing conflict and enmity that hold back shared progress of humanity and building the foundation for greater prosperity."
Yoon added that such freedom and peace can be obtained only when the world is free from disease and hunger, illiteracy and a want of energy and culture.
Contrary to expectations, Yoon didn't mention North Korea by name in his 11-minute speech entitled, "Freedom and Solidarity: Answers to the Watershed Moment."
However, he warned that "attempts to alter the status quo by force endanger the lives of innocent people" and that "nuclear weapons and other weapons of mass destruction pose increasing threats to humanity." He added that "systemic violations of human rights leave millions of children deprived of their future."
Yoon noted that the "very first mission of the United Nations after its founding was to approve the Republic of Korea as the sole legitimate government on the Korean Peninsula" and to defend South Korea by sending UN forces during the 1950-53 Korean War.
He stressed that the UN's role is "indispensable" in solving challenges such as overcoming the Covid-19 pandemic and preventing future infectious disease outbreaks and pursuing the global agenda for carbon neutrality and climate change.
South Korea "scaled up support for those who are in need" and increased its Official Development Assistance (ODA) budget "with a vision of achieving a more inclusive development globally," said Yoon.
He also noted that South Korea has accelerated research and development for Covid-19 therapeutics and vaccines and pledged $300 million dollars to the Access to Covid-19 Tools Accelerator, or ACT-A, initiative and $30 million dollars to the World Bank's Financial Intermediary Fund as a part of efforts to build a more robust global health architecture.
Yoon called on countries "at the forefront of digital innovation" to "offer broader assistance for digital education, technology transfer and investment."
He urged countries with "leading green technologies" to "unsparingly share new and renewable energy technologies with others." South Korea, he added, will focus on increasing its ODA to help developing countries "transition to a low-carbon future" and share its innovative green technologies with the world.
"As a responsible member of the international community," said Yoon, "Korea is committed to playing its due responsibility and role for the freedom of global citizens and the prosperity of the global community."
Yoon mentioned "freedom" in the Korean version of his speech 21 times, "UN" 20 times and "international society" 13 times.
Later Tuesday, Yoon held a 25-minute meeting with UN Secretary General Antonio Guterres and elaborated on his initiative to denuclearize North Korea, according to Kim Eun-hye, senior secretary for press affairs, in a press briefing in New York.
Yoon told Guterres, "If North Korea chooses a better path, the South Korean government and international financial institutions will spare no effort in making large-scale investments and providing financial support to build infrastructure."
This is in line with an "audacious initiative" first detailed in Yoon's Liberation Day speech last month to help North Korea's economy if it takes steps toward denuclearization.
Yoon said he would do his best "to help North Korea open its closed door" to contribute to peace in the Northeast Asian region and in the world.
However, if North Korea resumes its nuclear testing or carries out additional provocations, Yoon asked for Guterres' "continued interest and support so that the international community can sternly respond with one voice."
Guterres assured Yoon that the UN Security Council will take a clear response to any provocations that threaten freedom and peace, according to Kim.
Yoon also thanked Guterres for his support for a "complete, verifiable and irreversible denuclearization of North Korea and efforts to establish sustainable peace on the Korean Peninsula."
In a lunch meeting with former World Bank President Jim Yong Kim, Yoon discussed how international financial groups and organizations will be ready to provide a "full range of assistance" to North Korea if it takes steps to denuclearize, said Kim.
With first lady Kim Keon-hee, Yoon attended an event with some 170 Korean residents Tuesday evening. He promised to work with the U.S. government to ensure their rights and safety and prevent any discrimination against them.
On Monday, Yoon arrived in New York after attending the state funeral for Queen Elizabeth II in London as a part of a weeklong tour which will also take him to Canada.
On the sidelines of the General Assembly, Yoon is excepted to hold his second bilateral summit with U.S. President Joe Biden and some form of meeting with Japanese Prime Minister Fumio Kishida.
Seoul and Tokyo were wrangling over the time and format of a Yoon-Kishida meeting until the last moment as of Tuesday.
Japanese media including Asahi Shimbun reported Wednesday that Kishida was peeved that Seoul's presidential office unilaterally announced that a bilateral summit will be held on the sidelines of the UN last week. Countries usually coordinate announcement times for such bilateral summits.
Korean presidential officials said Tuesday that the two sides are in the process of finalizing the details.
Yoon is also expected to attend business events and attend a reception hosted by Biden at the American Museum of Natural History on Wednesday.
BY SARAH KIM [kim.sarah@joongang.co.kr]