The stretch of the 10 Freeway in downtown Los Angeles, closed since a November 11 arson fire damaged it, reopened in both directions on November 20, the California Highway Patrol reported.
The eastbound lanes reopened at 5:36 p.m., and the westbound lanes at 6:56 p.m. This surprise reopening occurred two days before the initially scheduled date.
California Governor Gavin Newsom, Vice President Kamala Harris, and LA Mayor Karen Bass held a press conference on the closed 10 Freeway Sunday morning, announcing, "It will be open tonight and fully open on Monday." However, they added, "As repairs continue over the coming months, the public should expect some temporary closures on occasional weekends and overnight, along with intermittent lane closures."
All eastbound on and off ramps on the freeway are open Monday. The westbound Alameda exit and the 8th Street on-ramp to the westbound 10 Freeway will remain closed Monday.
Newsom emphasized that the accelerated reopening was due to the collaborative efforts of local, state, and federal officials, along with construction crews working around the clock in the aftermath of the fire.
The one-mile stretch of Interstate 10 between Alameda Street and Santa Fe Avenue, which carries an average of 300,000 vehicles per day, has been closed since November 11 following a massive fire of wooden pallets stacked under the roadway, causing major commuter disruptions.
Initially, there were concerns that the closure would be prolonged due to the possibility of demolishing and replacing the section. Newsom announced on November 14 that it would not reopen for another three to five weeks. Later, he stated his intention to reopen the bridge early, aiming for two-way traffic by November 21 at the latest.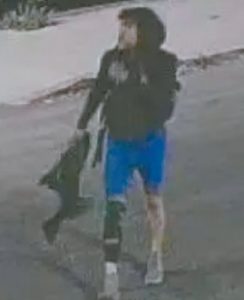 Meanwhile, the California Department of Forestry and Fire Protection released a photo of a man believed to be involved in the fire. According to the fire department, the man, captured on surveillance cameras, is 6 feet tall, 30 to 35 years old, wearing a black hoodie, blue shorts, gray shoes, a green scarf, a knee brace on his right leg, and carrying a dark-colored backpack.
Authorities noted the man, who has possible burns on his left leg, left the scene shortly after the fire and is currently unaccounted for. They asked residents to call 800-468-4408 or email arsonbomb@fire.ca.gov with information.
BY NAKI PARK [park.naki@koreadaily.com]