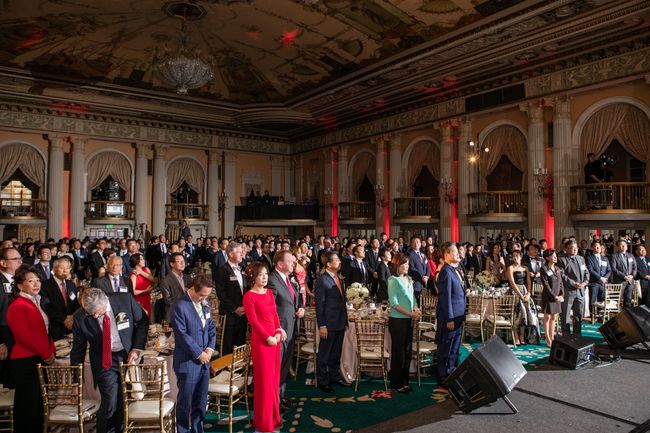 As the season for end-of-the-year events is just around the corner, many hotels in Los Angeles Koreatown have already began preparations for the soon to be hosted festivities. One notable change this year. Downtown, the traditional hotspot for such events, no longer seems to hold the same attraction this year.
The relocation of the year-end events has presumably been triggered by organizations seeking to cut costs due to financial reasons. As most hotels in downtown impose additional charge on dining, corkage and other various services, Korean organizations have figured that simply choosing a closer location in their own community actually costs significantly less than hosting events in downtown.
Similar events in downtown in previous years charged at least $80 per person. In other words, an event inviting 400 people started from $32,000 for dining tables alone. At Koreatown hotels, the cost is usually around $40 per person, which is half of how much events in downtown would cost.
In addition, servers are usually paid 15 percent of the event's total cost, while corkage cost starts from around $15 to $25 per bottle. All of this is in stark contrast to Koreatown hotels, which generally do not impose additional costs for miscellaneous costs. Some Koreatown hotels charge $5 to $10 corkage fees, which are negotiable.
Due to such a gap in expenses, the Korean Apparel Manufacturers Association has moved its annual end-year event to Koreatown's Garden Suite Hotel after years of hosting it at the Millennium Biltmore Hotel in downtown. The Korean Federation of Textile Industries has also moved its annual event to the Oxford Palace Hotel.
Although downtown hotels, including the Millennium Biltmore, offers lucrative services, such as charging only basic fees for events that invite more than a certain number of guests, the cost is still a burden for many ordinary community organizations. The consensus is that hotels in downtown usually charge a basic fee that is anywhere from $1,000 to $4,000.
Some organizations say that cost is not the only reason behind the recent relocation. Koreatown has been one of the rising neighborhoods in L.A. County's incessantly increasing gentrification. Also, Koreatown's accessibility and parking are easier, as many Korean-American organizations are headquartered in the neighborhood anyway. It is worth noting that parking in downtown also costs an additional $15 to $25 per car.
However, there are aspects in which hotels in Koreatown fail to provide other than parking accommodation and affordable costs. It has been pointed out that event organization in Koreatown is not as upscale as that of downtown hotels and that spaces are too limited to accommodate hundreds of guests.
By Moon Ho Kim