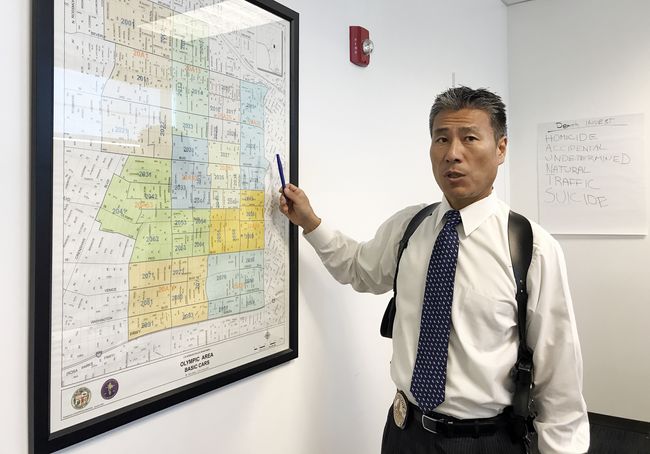 Robberies and car thefts are occurring more regularly in L.A. Koreatown recently.
The Los Angeles Police Department (LAPD) has revealed that 473 robberies and 591 car thefts have occurred this year as of Sept. 2. Those figures have increased by 17 and 20 percent, respectively, compared to the previous year. The numbers essentially mean about two people suffer from getting robbed, the two more lose their cars on an average day in Koreatown.
Notably, most robberies occur to the elderly pedestrians.
"About 80 percent of the robberies happen to pedestrians on the streets," said LAPD detective Ron Kim. "The pedestrians walking on the streets during nighttime are the most vulnerable."
On Sept. 1, a woman in her 30s was mugged by two African-American robbers past midnight on Fourth and Norton.
Police suspect that most robbers are outside of Koreatown.
"Koreatown is surrounded by Downtown, West L.A., Hollywood and South L.A.," Kim said. "It's a lot easier for outsiders to go in and out. Many suspects often commit crimes in Koreatown and move onto other regions of the city to commit secondary crimes on the same day."
Another common form of a robbery is a car theft.
"Older cars that don't require smart keys are often targeted by the thieves," Kim said. "The thieves either steal valuables inside the car, including golf clubs or tablets. Koreans often carry expensive items in their cars, which make them even more vulnerable to criminal activities."
Sex crimes also increased to 57 this year compared to last year's 49. Although that is only eight more, it is still a 16.3 percent increase.
Police advised late night pedestrians to ▶avoid dark, small streets ▶be on the phone with someone close while walking ▶carry a mace.
By Woosoo Lee