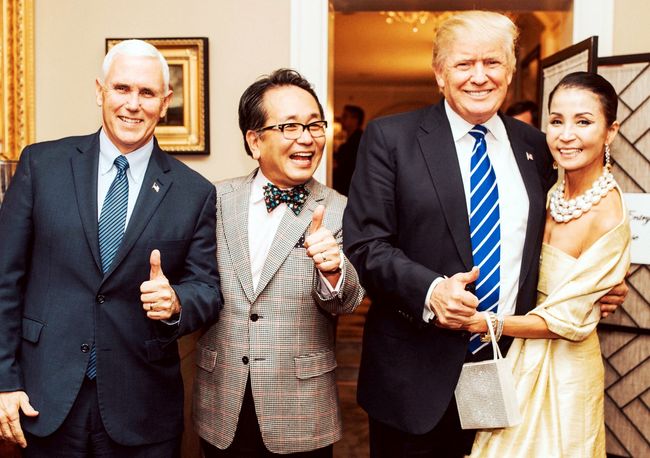 U.S. President-elect Donald Trump has made an unexpected appearance at a Korean-American man's birthday party.
The man recently revealed as one of Trump's close friends is 55-year-old New Jersey-resident Min-ki Choi, who has known the president-elect for 13 years. Both Trump and Vice President-elect Mike Pence attended Choi's birthday party on Nov. 19 at 5 p.m. at New Jersey's National Golf Club.
Since then, it has been revealed that joining Choi for his birthday party was part of the predetermined schedule for Trump even before the Nov. 8 election.
Brandishing a thumbs-up sign to Choi after showing up at the party, Trump's appearance is seen as a contrasting gesture among Korean-Americans, who felt that his anti-immigrants stance during his campaign seemingly hinted that he has an aversion to non-white Americans.
However, those close to Trump say that he values friendship and loyalty over prejudice.
Trump's relationship with Choi started when he first met the Korean man's wife Hye-kyoung Won 13 years ago at the New Jersey golf club. After being introduced to Choi through Won, their friendship went from strength to strength.
When Trump became the Republican presidential nominee, the couple was invited to the private party at Trump Tower in Manhattan. It has even been revealed that when Won was injured, Trump called the couple to ask how her recovery has been going.
"You two are true friends as you've been by my side through thick and thin," Trump apparently told Choi after his victory on Nov. 8. "Let's keep moving forward together."
About her friendship with Trump, Won said: "Donald Trump that I know do not care about a person's skin color and ethnicity when he befriends people."
Even at Choi's birthday party last week, Trump reportedly stuck around for more than 10 minutes, as he greeted more than 50 guests while smiling for photographs with them.
"I was visiting Trump's golf club in New Jersey with my mother who was visiting the U.S.," Won said. "Trump walked up to us and gently offered his greetings. We had a pleasant conversation with him from the start. Had he been someone who looked down upon women whose English was poor as he is perceived, that would've never happened."
Both Won and her husband Choi agrees that Trump is not the type of man to disregard the relationship between U.S. and South Korea.
"Trump has told us a number of times that Koreans are hardworking people and that his impression of South Korea is positive," Won added. "He is a meticulous businessman. Even to his golf club members, he doesn't even distribute free gifts if there is no reason to. This sort of efficient life habits will only help him to treat relationships with no bias."
By Hanseo Seo