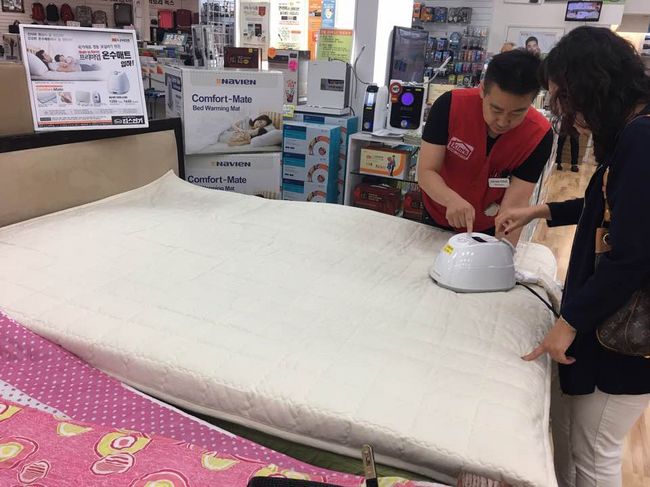 More consumers are starting to look for thermos products to keep their households warm as the weather is steadily getting colder by the day.
Warming pads have long been a popular winter item for Korean consumers. Shield Life has been a popular brand for a long time, but the likes of DY EZ Tech and KD Navien have joined the competition in recent years with specialized items of their own.
◇ Warming pads
The immensely popular pads can be easily laid out interchangeably from living room to the bedroom. It also helps consumers to save energy, which in turns contributes to keeping their electricity bill low. The traditional pads were not washable in the past, but the newer items are now come with detachable covers.
Prices for the pads vary from $40 to $400. Nowadays, the newer products even offer options which turns off the power switch to avoid overheating as soon as the pad hits the predetermined temperature. The pads manufactured by Shield Life usually cost more as they are electromagnetic-free, which does not pose health risks.
◇ Warm water pad
The warm water pads, released just before fall this year, is also among the popular items in recent weeks.
By circulating heated water inside the device, the warm water pad ensures that there are no health risks involved in using the product. It also heats the water using the built-in heating device, which uses less electricity. The warm water pad also comes with a safety lock option to provide further safety for its users.
Brands also vary for the warm water pads, as KD Navien, DY EZ Tech and Parklon have all released similar items. The Parklon product can also be controlled via smartphones through an app, while DY EZ Tech's flagship product steamboy has won the design award in the last three years. The warm water pads are a bit pricier than the warming pads, as the price ranges from $200 to $500.
"The first batch of warm water pads we began selling in September is now sold out after just two months," said KD Navien manager Stacey Kang. "We plan on going beyond the Korean community and reaching out to other Asian-American markets."
Kim's Home Center manager Young-kyu Choi said, "The demand for thermo products have been going up as the weather is getting colder now. Consumers are now savvier. They double check on everything now, from safety to usability. They're also willing to pay more money for higher quality products."
Meanwhile, the Korea Daily Hot Deal is currently selling the pads at a discounted rate, as the likes of Shield Life and Steamboy can now be purchased for prices that are 20 percent lower.
By Sung Yeon Lee